Taro Cake is a humble dish made with only a handful of ingredients. The name is misleading, as it's not sweet but a fried savory dish. It's filled with taro, obviously, but also bacon, shrimp and lots of spices then topped with scallions and served with coconut aminos as a dipping sauce.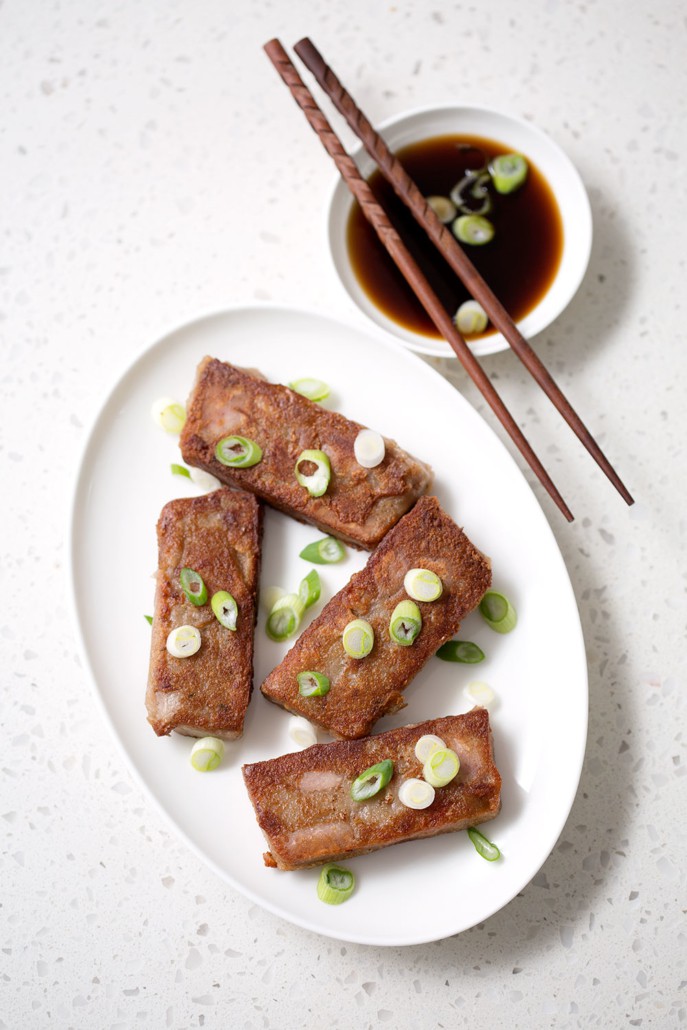 Taro Cake may seem like a strange dish for us in the US. Taro isn't as common here and you don't usually find dishes or recipes that use it. However, it's more common if you're on the AIP diet. It's one of those starchy root vegetables that we so desperately seek out to fill the void that white potatoes have left. They don't have much flavor on their own, kinda like potatoes. They do make some epic mashed potatoes but they are so much more. Let's chat about what is taro, how it is used and then all about this dish.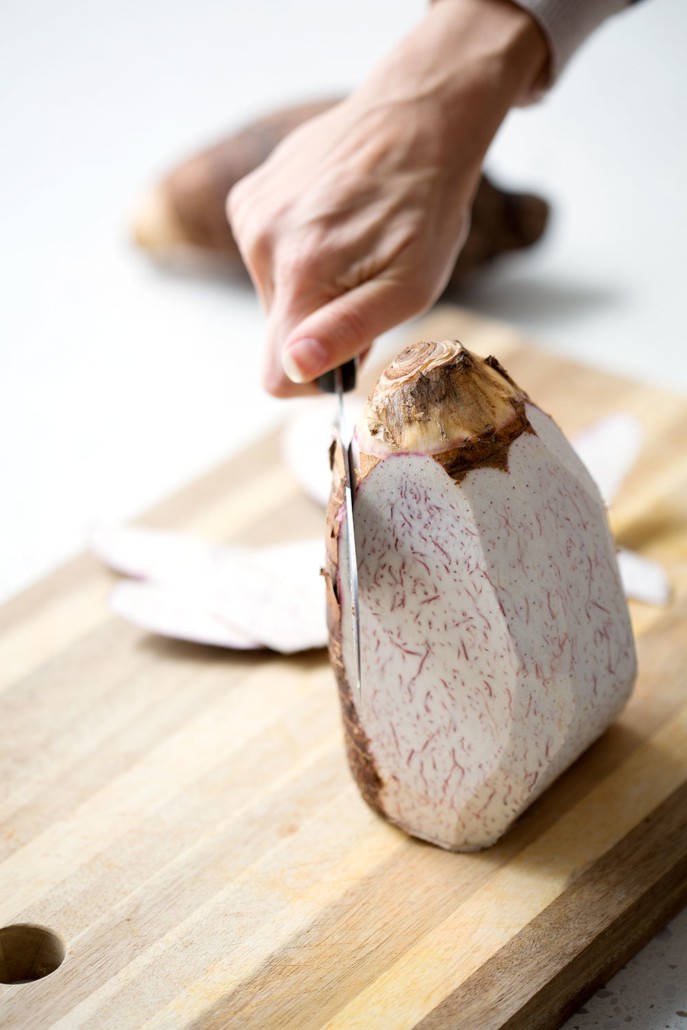 What is taro root?
Taro root is a vegetable that is native to Southeast Asia and India and is a staple in diets there as well as Africa, China, the Caribbean, and Hawaii.
The taro root has a hairy, bark-like exterior. Wear rubber gloves when handling the taro because the outside could cause an allergic reaction.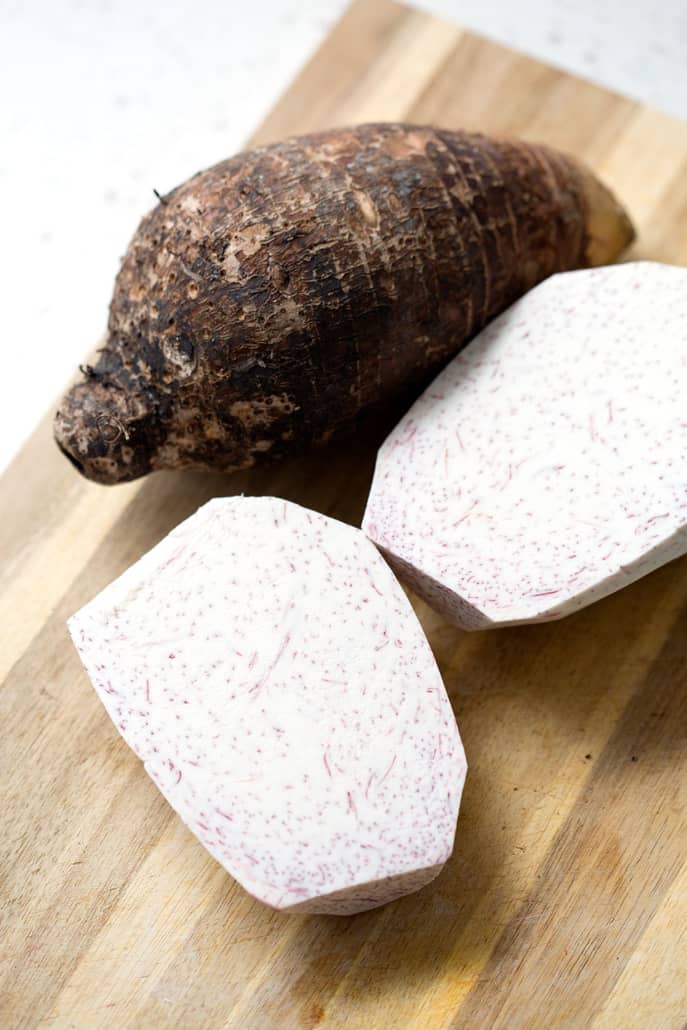 Just like potatoes, there are lots of varieties of taro. It's most commonly used and prepared just like a potato, as it's equally starchy and similar in flavor. Although taro has a nuttier, richer, and more complex taste overall. Compared to a white potato, it has three times the amount of fiber, and is also a rich source of potassium, iron, vitamin C, and vitamin A. Taro is also AIP diet friendly.
Taro root season is from November to February. You shouldn't have much trouble finding fresh taro at your local Asian grocery store during these months.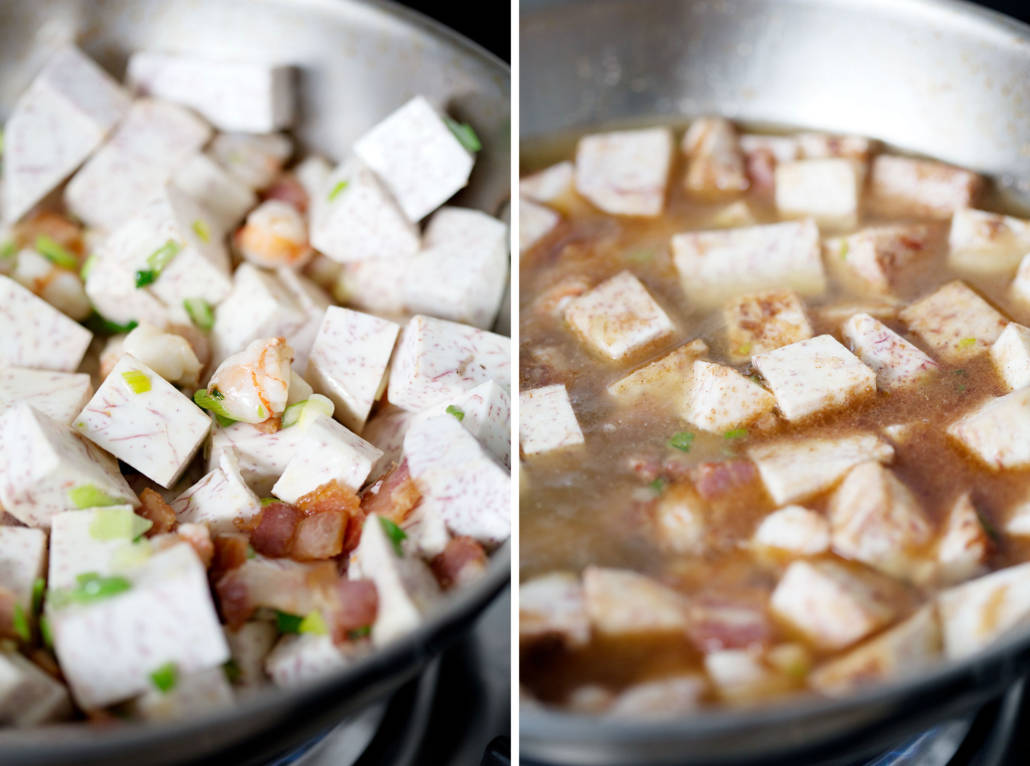 What do you cook with Taro root?
Taro root can be mashed, roasted, boiled or fried. It is used in everything from savory to sweet dishes. In Hawaii, they use taro in a dish called Poi, which is mashed taro root. I've seen it a lot in Asian dishes like boba tea, ice cream, pastries, and curries.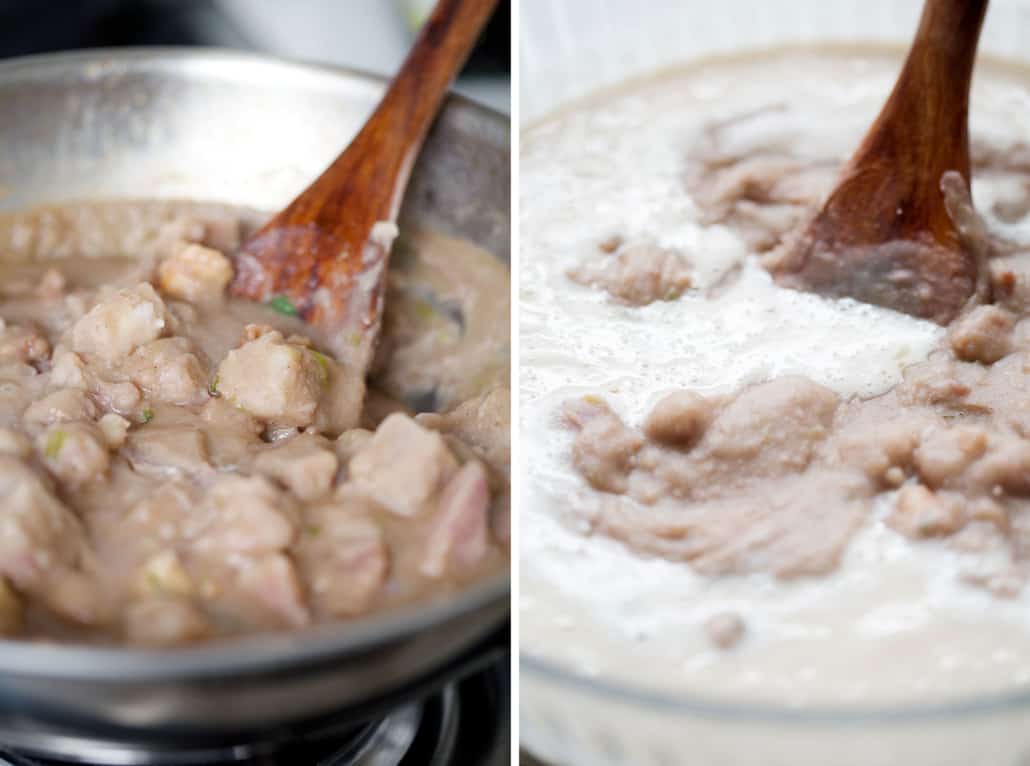 What is a Taro Cake?
This dish isn't really a cake and it's definitely not sweet. It's actually a savory dish that is traditionally made from mashed taro, shrimp, Chinese sausages, mushrooms, rice flour and oyster sauce. The sausages, rice flour and oyster sauce are not AIP friendly so I've substituted them with bacon, cassava flour, spices and coconut aminos.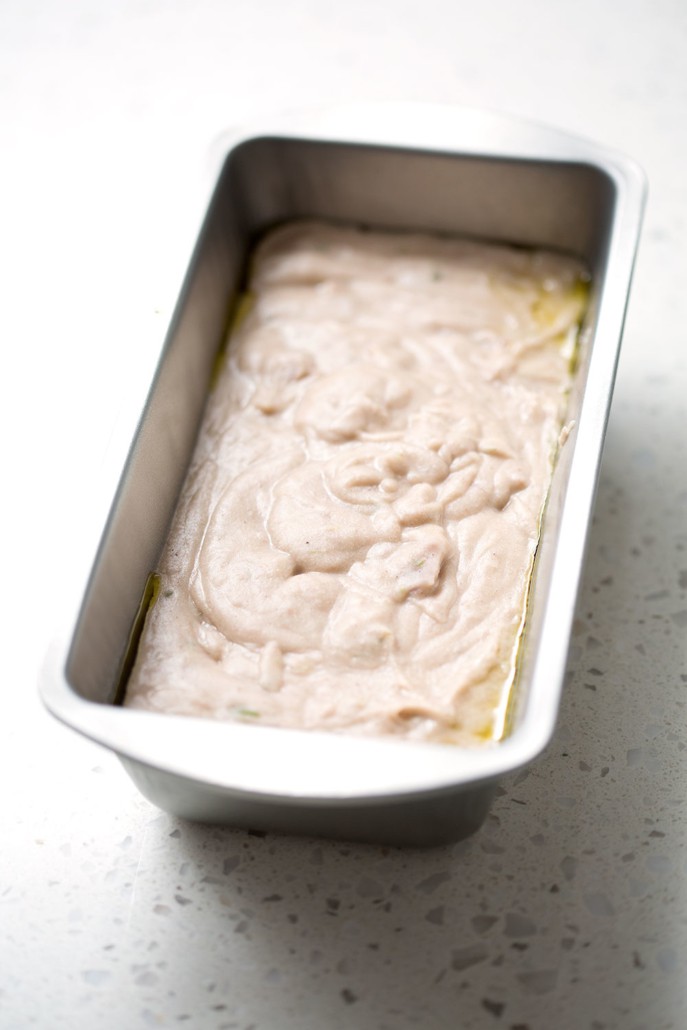 You see this recipe served a lot at dim sum and around the Chinese New Year. Dim sum is a Chinese meal of small plates best enjoyed with tea in the company of family and friends. The Chinese New Year (or Lunar New Year) is a festival that celebrates the beginning of a new year on the traditional Chinese calendar. This holiday lasts about 15 days and similar to Thanksgiving as it's about family and food.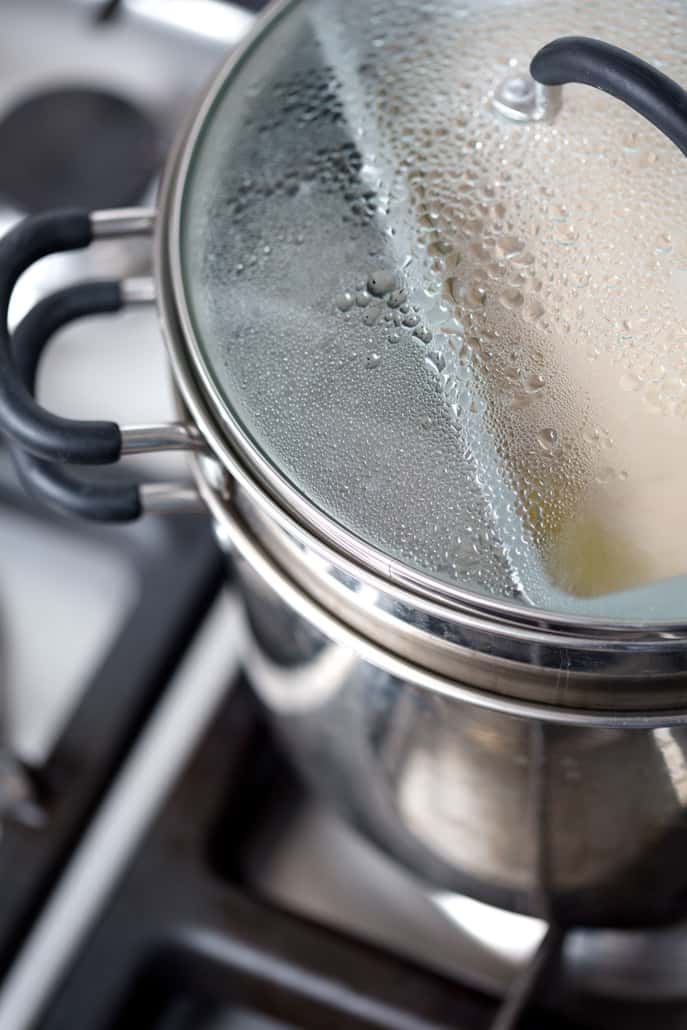 A few notes about this recipe.
If cooking with taro is unfamiliar to you, then I've included a few process shots. I think it helps to see the different stages of the taro as it's being cooked.
You'll need two mini loaf pans for this recipe. However, if you have a round cake pan that fits in your steamer, you could use that as well. You won't just need to cut it into pie pieces instead of slices before frying. This size fits perfectly into my steamer. Click here for a good option.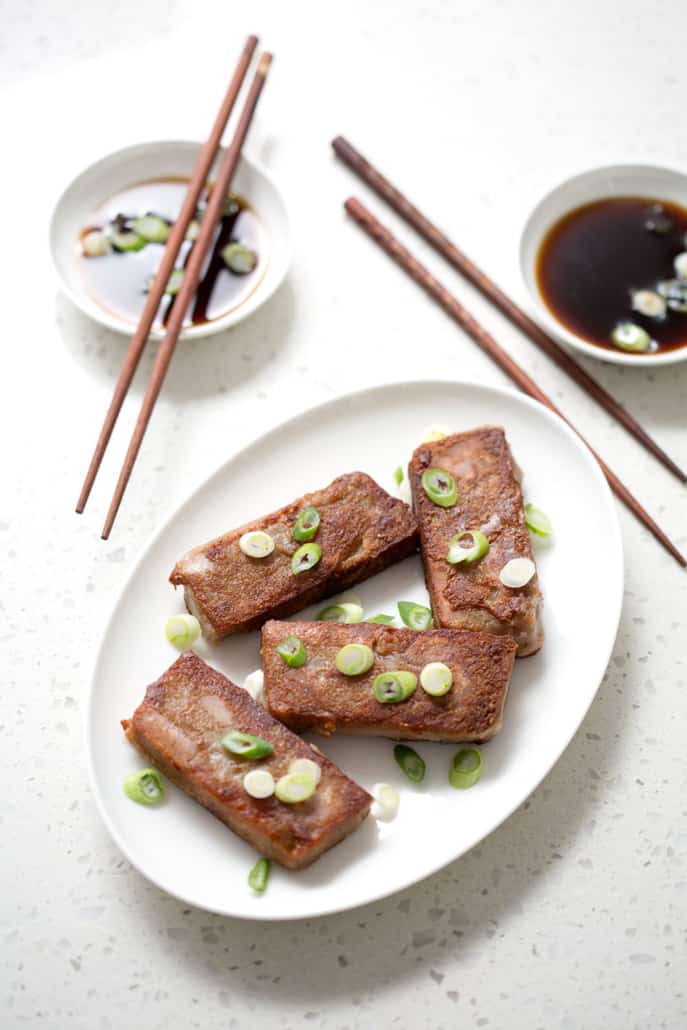 If you go all the way through this recipe and the idea of buying two mini loaf pans stops you from making it because you are asking yourself 'when in the hell am I going to use mini loaf pans again now that I'm AIP and I can't bake??!' I've got those sad pots and pans that just sit in the back of the pantry and every time you look at them you wonder what made you buy them. That's not these. I'm working on a coconut and date chewy snack (haven't settled on a name yet) that uses those pans. My Tart Cherry and Plum Gummies (click here for the recipe) can be adapted and for the pans as well.
You'll also need a steamer. I have a stainless steel steamer but a more traditional bamboo steamer would work as well. I'm hunting for a steamer basket that would fit an entire fish. If you know where I can get one, let me know!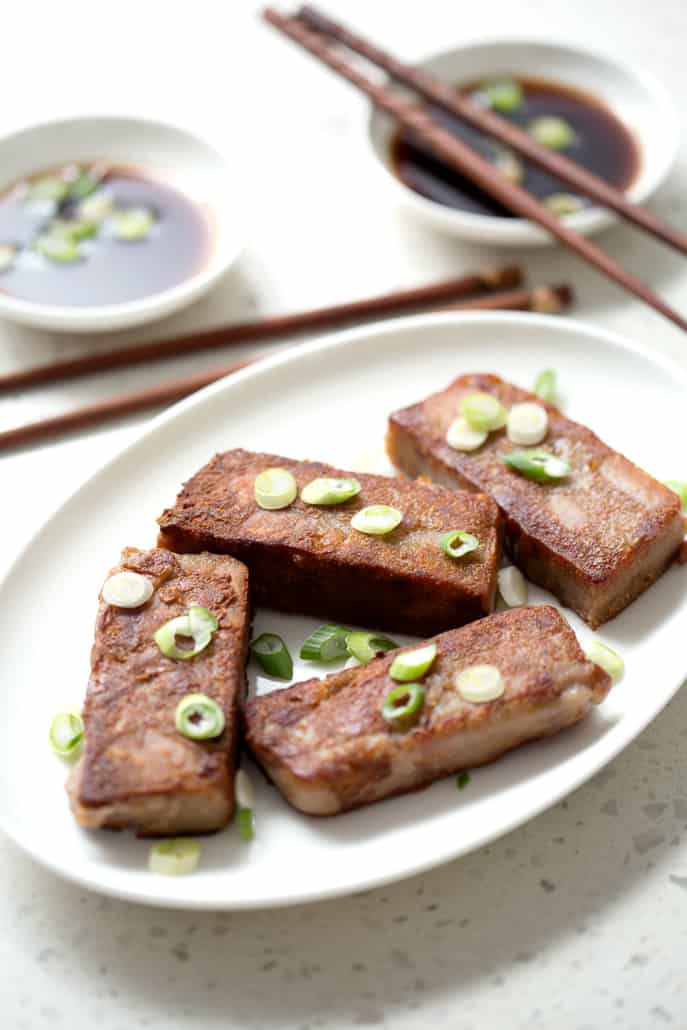 Print Recipe
Taro Cake
Taro Cake is a humble dish made with only a handful of ingredients. It's a savory side dish that is normally found at Sunday Dim Sum or during your families Chinese New Year celebrations. This recipe suits the Autoimmune Protocol (AIP) and Paleo diets.
Ingredients
3

tablespoons

Avocado oil

plus more for pan-frying and greasing the pans, ghee would be a great substitute (AIP Reintroduction)

3

slices

Bacon

chopped into small bite size pieces (you can also substitute 4 ounces bacon)

½

cup

Shrimp

shelled and deveined, roughly chopped

6

Scallions

chopped (about 2 cups)

1 1/2 – 2

pounds

Taro

cut into ½-inch cubes

2

teaspoons

Salt

1

teaspoon

Garlic Powder

1/2

teaspoon

Onion Powder

1/2

teaspoon

Ground Cinnamon

1/2

teaspoon

Ground Ginger

3 1/2

cups

Bone Broth

divided

1

cups

Cassava flour
For Serving
Coconut Aminos

Green Onions

sliced
Instructions
Heat the oil in wok over medium heat.

Add bacon, pan-fry for 2 minutes.

Add the shrimp, stir-fry for another minute.

Add the scallions and taro, and stir-fry for 3 minutes.

Season the taro mixture with salt, garlic powder, onion powder, cinnamon and ginger.

Now add 2 cups of broth, making sure all the ingredients are evenly submerged. Cover with the lid, turn the heat down to medium low, and simmer for 8 minutes. Once it's done cooking (the taro should be breaking down at this point, if not let it cook for a few more minutes) uncover the lid, shut off the heat, and let it cool slightly.

In a large bowl, mix the cassava flour, 1 1/2 cups chicken broth together until well combined.

Next add the taro mixture (no need to wait for it to cool completely). Mix thoroughly until a cement-like paste forms.

Generously oil two small loaf pans, and divide the mixture between the two pans. Spread the mixture evenly in the pan, making sure there are no air pockets in the mixture.

Steam the taro cakes in a double decker steamer for 45 minutes. Make sure you start with enough water so the water does not dry out halfway.

No double decker steamer? Just steam the two pans in two separate times.

If you are using a bamboo steamer, add hot water to your wok every 10 minutes to prevent the water from drying out and burning your bamboo steamer.

After 45 minutes, insert a toothpick into the taro cakes; if it comes out clean, then it's done.

Once the taro cakes are cooled completely, you can seal the taro cakes tightly in a ziplock bag and freeze them for later.

If you'd like to eat them now, slice into rectangles.

Heat a couple tablespoons of oil in a skillet over medium heat, and pan fry the slices of taro cake on both sides until golden brown and crispy.

Sprinkle with salt and serve. You can put out a little coconut aminos with green onions for dipping, or just eat these plain!
Nutrition
Serving:
1
slice
|
Calories:
192
kcal
|
Carbohydrates:
33
g
|
Protein:
5
g
|
Fat:
5
g
|
Saturated Fat:
1
g
|
Cholesterol:
13
mg
|
Sodium:
381
mg
|
Potassium:
612
mg
|
Fiber:
4
g
|
Sugar:
1
g
|
Vitamin A:
120
IU
|
Vitamin C:
6
mg
|
Calcium:
63
mg
|
Iron:
1
mg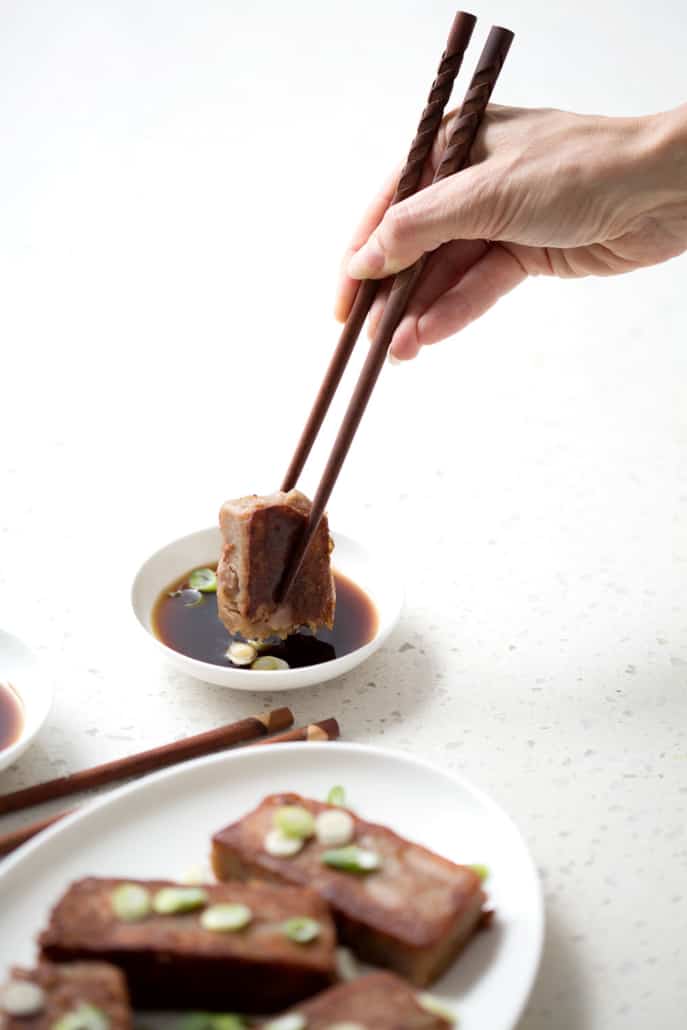 Do you celebrate the Chinese New Year? Let me know which dishes your family enjoys in the comments and I'll try to adapt it make it AIP friendly!