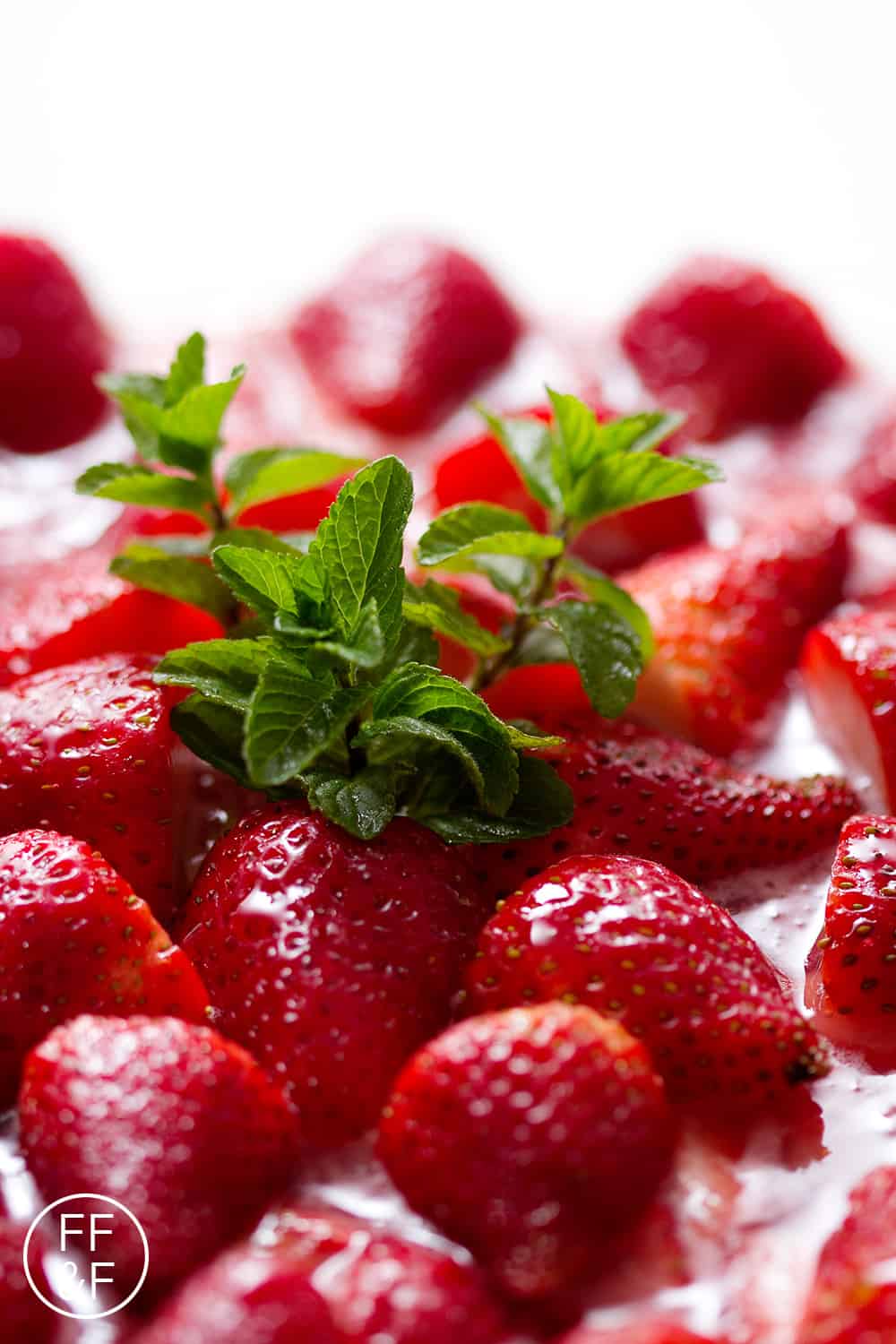 Summer is here and strawberries are everywhere.  They are coming out my ears.  Every stand has them at the farmer's market and I plan on using them.  I recently made this pie (with a little help) with all fresh strawberries.  It was delicious.  My advice is to make 2.  Your family will eat it up!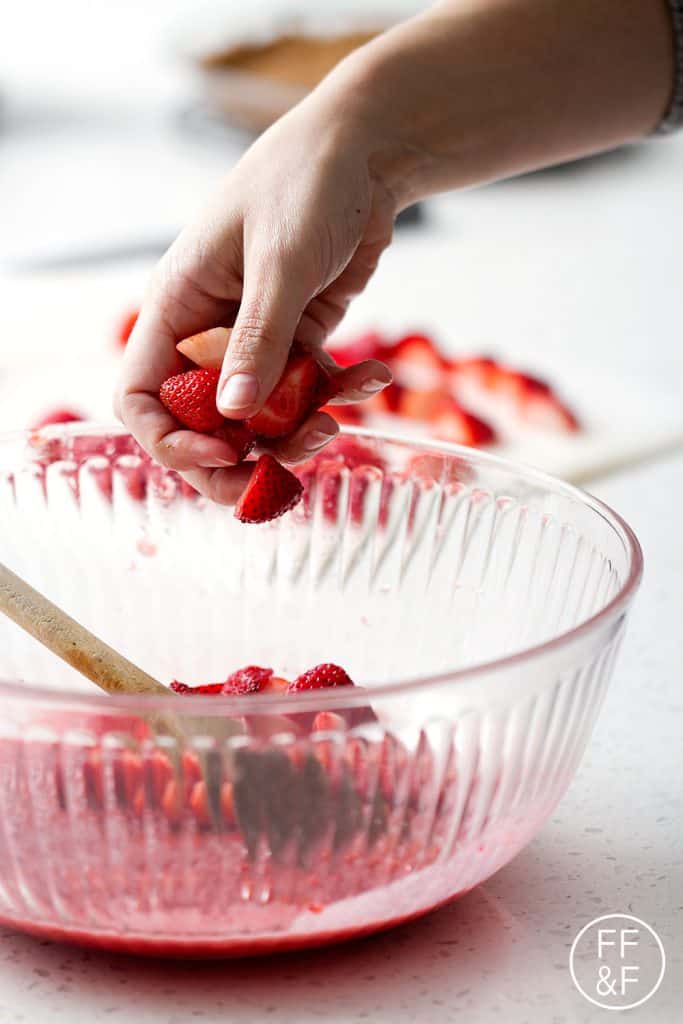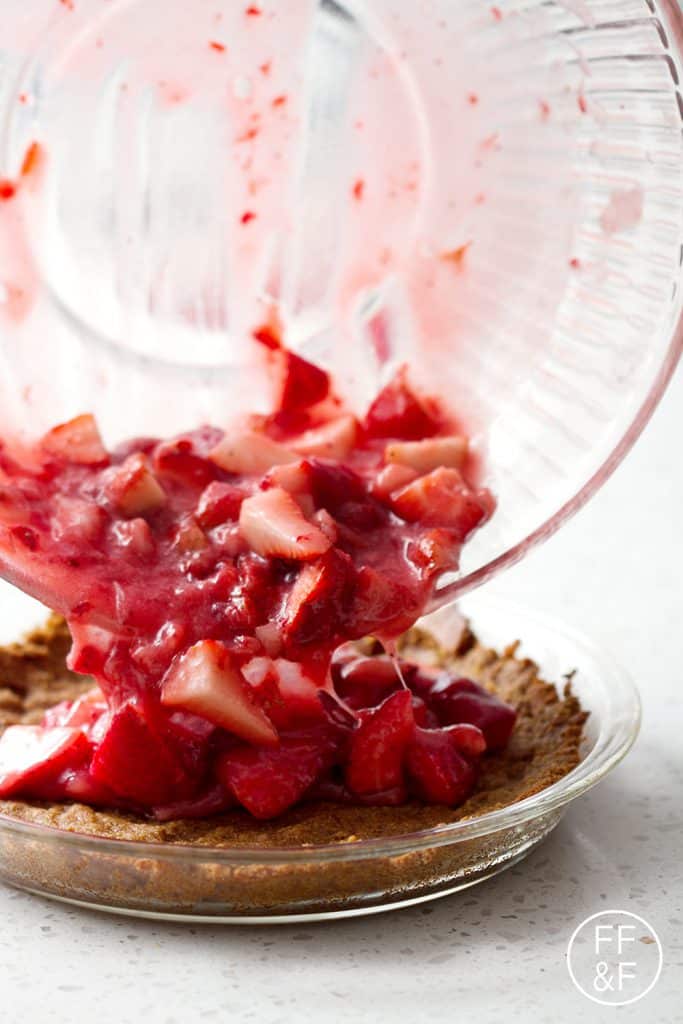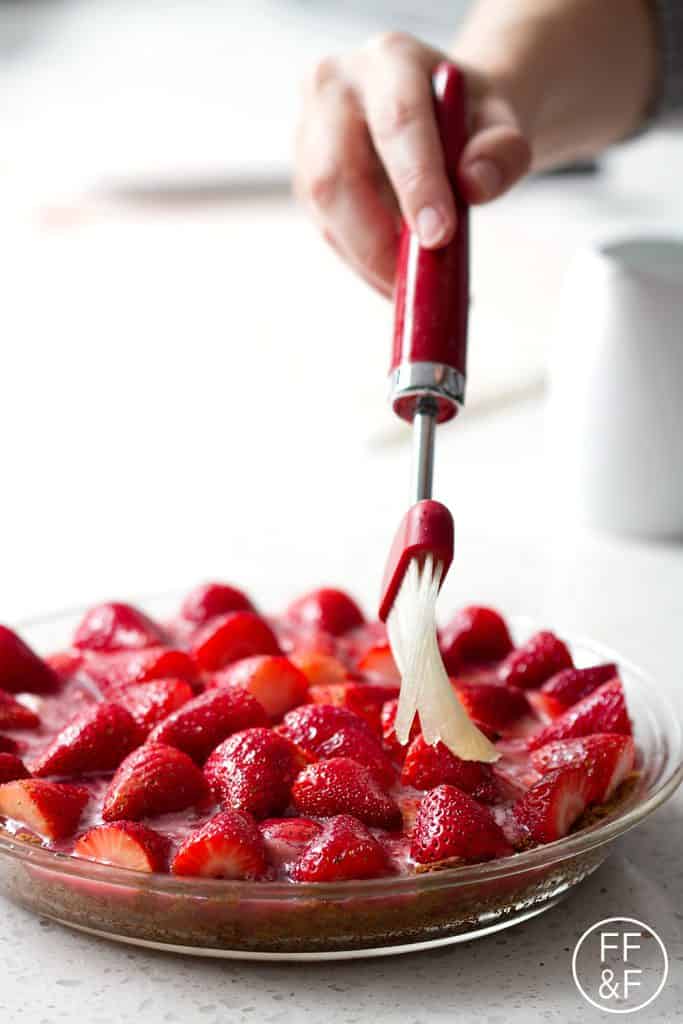 Update: I updated this recipe and photos as of April 2015.  Just a few minor changes to make the recipe easier to understand and follow.
Print
Let's Eat | Strawberry Pie with a Graham Cracker Crust
Ingredients
1 1/3 cups finely crushed Cinnamon Sugar Graham Crackers (about 15 graham crackers)
6 tablespoons Unsalted Butter
3 pints hulled Strawberries, cut in half (should be about 5 cups)
3 tablespoons Cornstarch
1 cup Sugar
1/4 cup Jam, Jelly or Fruit Spread
Instructions
To make the crust, preheat oven to 375 degrees.
Add the graham crackers to a food processer. Chop until smooth.
Add the butter and combine until you have a wet sand texture.
Press crumbs into the bottom and sides of a 9" pie dish. Keep in mind that the crust will shrink a little when it bakes.
Bake in preheated oven for 8 minutes. Let cool before filling.
While the crust is cooling, make the filing.
With pastry blender, crush 1/3 of the strawberries.
Stir in cornstarch and sugar.
Add strawberry mixture to a saucepan.
Cook over medium heat, stirring, until thickened, about 5 minutes. It should look like jam. Then let cool.
Fold 1/3 of the strawberries into the cooled strawberry mixture.
Pour into the crust.
Place the remaining 1/3 of strawberries on the top.
Heat the jam in the microwave for about 15 seconds until it's liquefied.
With a pastry brush, brush the jam over the strawberries. It will give the strawberries a sheen and keep them fresh and bright.
Refrigerate until well chilled, about 4 hours.

If you make this recipe, be sure to snap a photo and hashtag it #FOODFASHIONANDFUN. I'd love to see what you make!
https://bonaippetit.com/wp-content/uploads/2013/07/Strawberry-Pie-with-a-Graham-Cracker-Crust-54wm.jpg
1500
1000
Beth
https://bonaippetit.com/wp-content/uploads/2017/10/new-bon-logo.png
Beth
2013-07-18 12:00:04
2018-02-14 19:03:43
Strawberry Pie with a Graham Cracker Crust