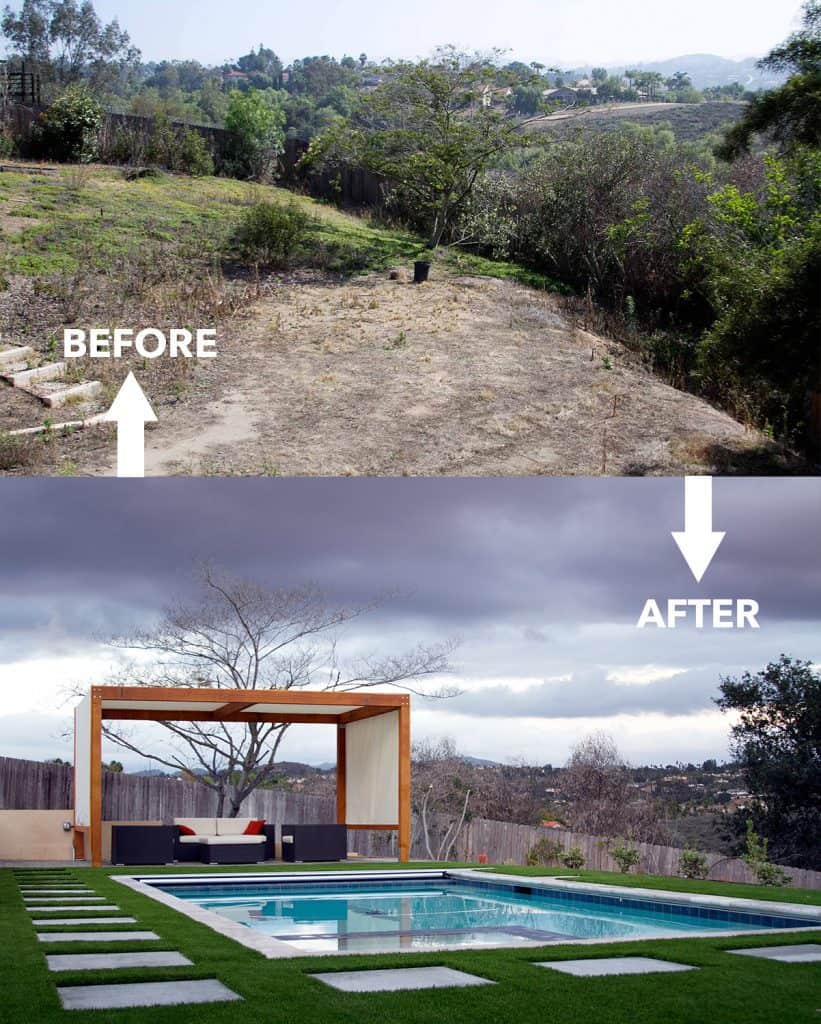 The backyard renovation is finally done! The entire process from design to completion took about 13 months. I'm really, really glad we had a friendly relationship with Steve from Panjia Landscaping because it was a long process. I've gotten engaged, married, pregnant and almost had the baby before the backyard renovation was complete.
We had multiple delays, none of which where his fault, so I don't want you to think that this is how long a landscaping job is supposed to take. It probably could have been done in 6 months. In any case, we're extremely happy with the results.
The upper cabana is very minimal by design. We have planted some passion fruit vines that, we hope, will grow and cover the cabana so that we have some shade. In the future, we plan to make it a nice sitting area where you can catch the sun set and admire the view. We've also surrounded it in cherimoya trees to give the hill some additional shade. It will take years for those trees to become full-grown but the passion fruit grows quickly. It supposedly does well in San Diego and can grow 20 feet a year. We may actually have fruit by this summer.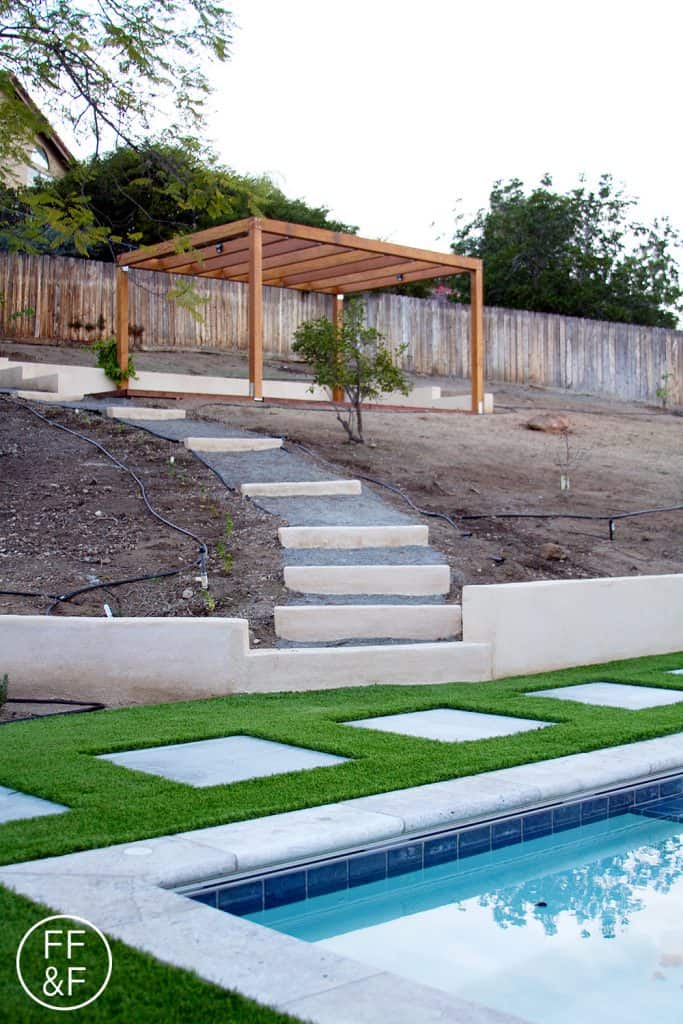 We planted a few peach and nectarine trees on the hill. By March they were blooming beautiful pink flowers. We're hoping for fruit by June. We're going to plant additional ground cover on the hill this fall to help the hill from eroding.
The new retaining wall looks seamless with the old one. The new steps up to the upper cabana connect the old and new walls. We added some lavender and pink muhly grass behind the walls. Once they grow, they will add a touch of color and soften the hard edges of the walls.
We finished the swimming pool just as the weather was starting to get cold. We haven't had a chance to enjoy it yet. Now that the weather is starting to warm up we are finally getting a chance to use it. It gets super hot during the summer months and the cabana at the end of the pool will be a great place to lounge and stay out of the sun. It was my husband's idea to add the shade cloth to the tops and sides of the cabana. He initially wanted the cloth to be loose but ultimately decided to make it more permanent and secure. It's a little more of a modern Miami look.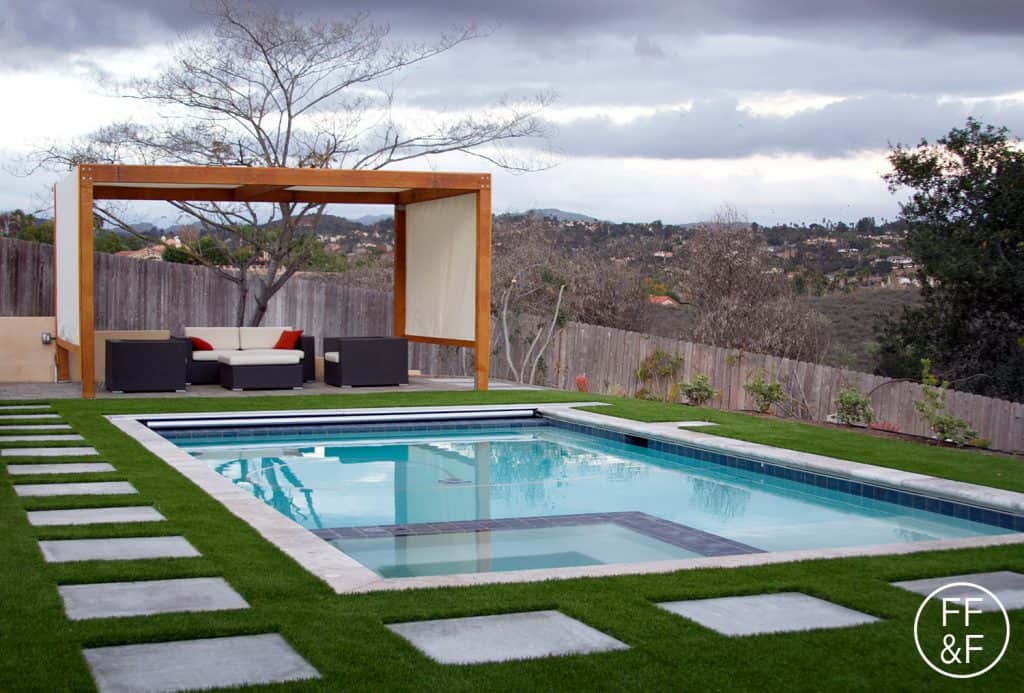 Our baby isn't running around the back yard just yet but we've had friends over with children and the pool cover has been great. It really gives us a sense of calm knowing that their kids won't accidentally fall into the pool when it's closed.
We also added some bushes to the right side of the pool. Eventually they will grow to be about 5 feet high. They will be thick enough to protect anyone from falling down the slope. They will also keep the pool equipment and fence from site.
It's also nice to have green grass in the backyard, even though it's not real. Even with all the rain San Diego has gotten this year, we're still in a serious drought. The amount of water that we are saving is huge.
I grew up in an area where there were a lot of Italians (including my own family) so playing bocce ball was a ritual during the summers. Everyone played, as it was apart of our culture. While it's not very popular around Southern California, I love that we have a dedicated space for it. That being said, it's the one part of the backyard renovation that I feel we could have done without. When you are playing bocce ball with a group of people, I don't know if there will be a comfortable amount of space. We also had issues with drainage and finding the right DG that wasn't all sand. The rains came before we had a chance to use the court so I'm not sure how I'll feel after this summer but it's been a huge pain in the meantime.
The other part of side yard that I absolutely LOVE is the raised garden beds. They make me feel like a farmer! While these were a DIY project for my husband and I, our landscaper was able to hook up the irrigation system into the beds. It makes it much more convenient when you don't have to remember to water the garden. We started with seeds and now the bed is full of herbs and veggies.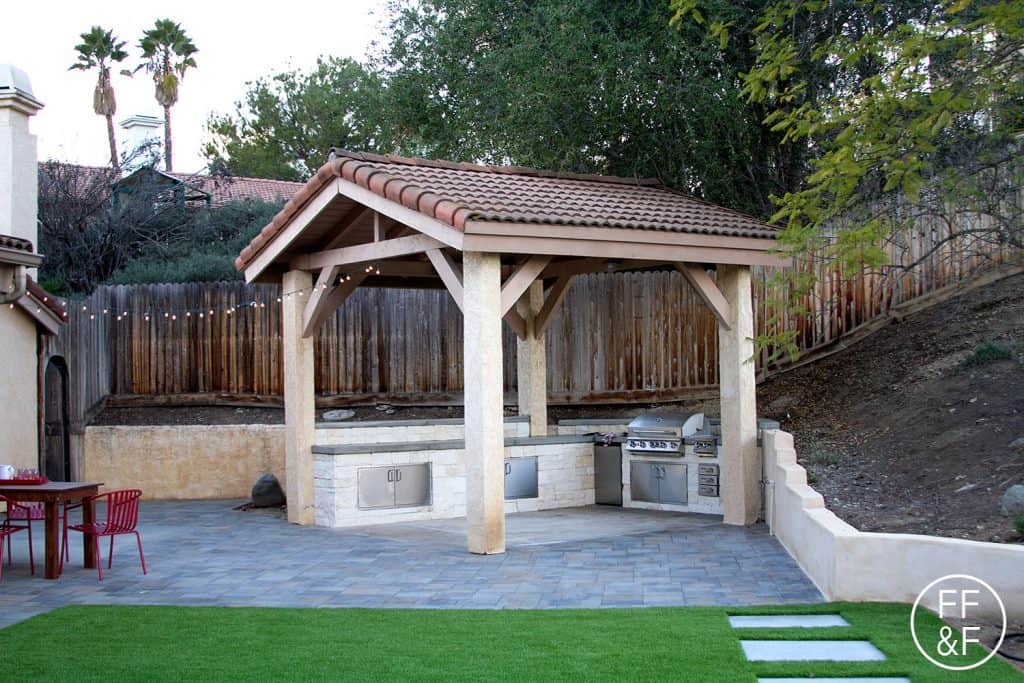 The bbq area is one of my favorite spots to come out of the backyard renovation. We've been using the grill all winter long. Rain or shine. The rotisserie is my new favorite cooking tool.
We've added a few market lights outside of the bbq area and added an eating area. We've still got plenty of space for entertaining. We had a cocktail party and the space worked perfectly although we would like to add a few chairs and create a sitting area.
I shot the yard earlier in the year before spring hit. I'm glad I did so you got the chance to see the newly finished hardscape. It gives a clear picture of the final work that was done to the yard. That being said, it's a slightly moody shoot due to a storm that was passing through. It was actually a historic rainfall. We ended up with more rain in one day that we normally see in six months. Due to the rain, we've already had to make a few changes to the steps and drainage. We've also added a lot of additional plants and finishing touches. Either this spring or next, I'll give you an update on the yard. It will be much more lush than it appears right now once we have the plants in and they are given some time to grow.
Stay tuned for the next post, which is the Front Yard Reveal! In the meantime, be sure to follow along the renovation on instagram using the hashtag #BethHomeProject.
If you're interested in seeing more before photos check out my Backyard and Front Yard Renovations and Backyard and Front Yard Renovations: Design Decisions and The Plan posts.
If you missed my last post, check out Front and Backyard Renovation: Driveway and Front Walk.
https://bonaippetit.com/wp-content/uploads/2016/03/Backyard-After-before-after.jpg
1500
1202
Beth
https://bonaippetit.com/wp-content/uploads/2017/10/new-bon-logo.png
Beth
2016-05-16 12:00:00
2017-03-16 22:02:33
Front and Backyard Renovation: Backyard Reveal