Just because you're AIP doesn't mean that you can't enjoy dessert. This No-Bake Butternut Squash Pie tastes just like pumpkin pie but only better because you didn't have to turn on the oven, it's made with whole food and zero refined sugar. This recipe is also apart of the NEW cookbook, AIP by Season.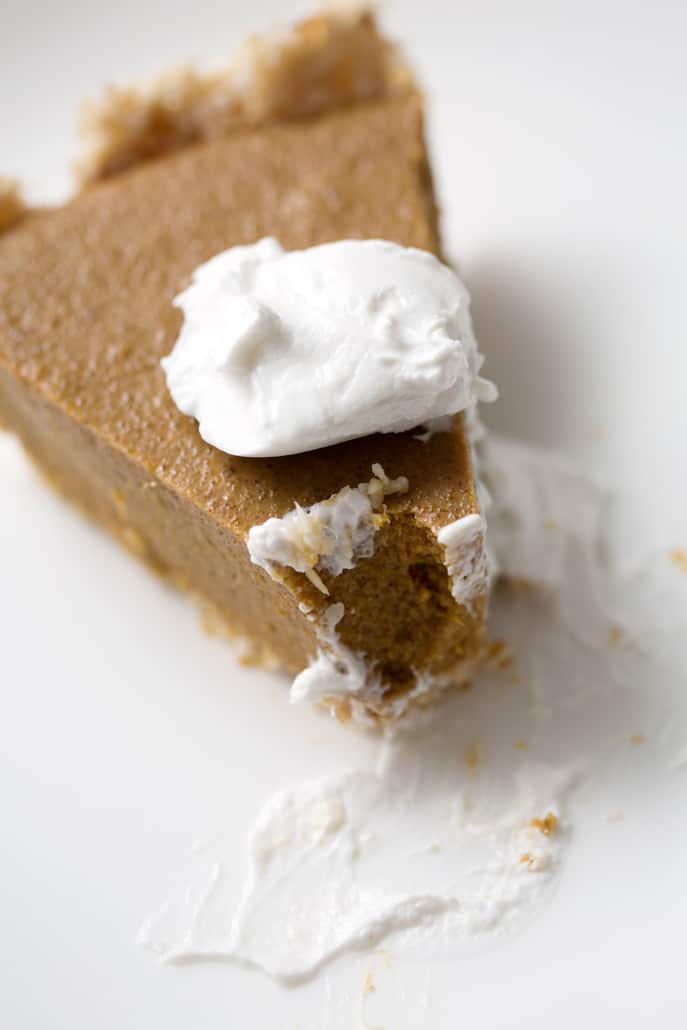 Doesn't this No-Bake Butternut Squash pie look just like pumpkin pie?
If you're used to making you own pumpkin pie and getting 'pumpkin' from a can, then you should know that it's not totally pumpkin. Canned pumpkin is made from a variety of squash but mostly BUTTERNUT! So you've been eating butternut squash pie for years and never knew it!
This recipe is almost as easy as making pie using canned pumpkin. There are really only a few more steps and this recipe is unique in that it requires zero cooking. This is especially helpful on Thanksgiving when you only have one oven and you've already got a turkey and a million sides that need the oven as well.
I realize that you're probably not craving pumpkin pie (or anything that resembles it) right now. BUT, you'll thank me as we head into the holidays and you need a dessert that's easy to make and totally AIP. I'm also telling you about this right now because this recipe is apart of my NEW ecookbook, AIP by Season.
What's in the AIP by Season ecookbook?
This book has 101 different recipes (from 22 contributors) that feature your favorite produce that's specific to each season. You'll never be shopping at the farmer's market, pick up a turnip and say 'what am I going to do with this?' ever again! By the way, there are four different recipes with turnip.
Every recipe also includes a beautiful photo. Here are a few of my favorite recipes that are featured in the book.
Prosciutto & Sage Stuffed Chicken with Lemon & Garlic Asparagus
Matcha Green Tea Gelato with Fudge Sauce
Marinated Chicken with Tabbouleh & Rosewater Dressing
Acorn Squash Fajita Bowls
Nightshade-free Pineapple Shrimp Ceviche with Honey-Lime Dressing
To get 101 recipe for only $18.50 click here!
This book is so much more than recipes. It includes a ton of resources as well.
Seasonal AIP Produce Chart that highlights AIP compliant produce according to the season.
Index Page so that you can easily find recipes to match your chosen produce.
Access to a private Facebook page to help you cook from the ebook along with your favorite bloggers.
About the Contributors section introduces you to all of the book's contributors and where to find more of their amazing recipes.
Tip, Tricks and Terminology guide to aid you in safely selecting common AIP friendly ingredients, as well as time and money saving tricks.
Extending the Seasons will guide you through fermenting. There's even a recipe for making Homemade Sauerkraut.
Coconut-Free Substitutions guide for making substitutions for coconut in recipes for those that are intolerant or allergic. This includes instructions for submitting coconut in 25 of the recipes in the book.
Resources page will help you find other valuable services to aid in your healing journey.
To take advantage of the additional resources click here!
Each recipe in this ebook is 100% compliant with the elimination phase (according to Paleo Autoimmune Protocol as defined by Sarah Ballantyne, Ph. D.). This means that they are all:
Egg free
Dairy free
Gluten free
Grain free
Seed free
Legume free
Nightshade free
Nut free
Refined sugar free
Free of gums & chemical preservatives
Made only with whole, unprocessed foods!
Why eat seasonally?
Supports your local farmers.
Preserves the environment.
You have a broader variety of foods in your diet.
Saves your wallet! Seasonal foods are cheaper to produce and often cheaper to buy when they are in season as well.
You get the best, healthiest food available!
Click here to learn more and download AIP by Season!
Print Recipe
No-Bake Butternut Squash Pie
This pie tastes just like pumpkin pie but totally AIP and no-bake. The coconut crust is the only way that you'd be able to tell that it's not a traditional pumpkin pie. It's the perfect dessert for Thanksgiving! This recipe fit the Autoimmune Protocol (AIP), Paleo and Vegan diets.
Ingredients
For the Filling
3-3 1/2

cups

Butternut Squash

about 2 squash, mashed

1/2

cup

Maple Syrup

1 1/2

cups

Coconut Cream

2

tablespoon

Blackstrap Molasses

1 1/4

teaspoon

Cinnamon

1/8

teaspoon

Cloves

1/2

teaspoon

Salt

1/4

cup

Gelatin
For the Crust
1 1/2

cup

Shredded Coconut

15

Dates

soaked in water for about 12 hours to soften

1

tablespoon

Coconut Oil
Instructions
To make the crust, combine the shredded coconut, dates and 1 tablespoon coconut oil in a high speed blender.

Combine until all the ingredients are just combined and the dates are shredded. You don't want mush so go slowly.

Pour the date mixture into the pie pan and spread it out evenly. Press it into the pan to create the crust.

Place the pie in the refrigerator and then make the filling.

To make the pie, add gelatin to room temperature coconut milk then stir to combine.

If squash isn't already warm, heat it until slightly warm.

Put syrup, cinnamon and cloves in a high-speed blender.

Next add the coconut cream mixture followed by the warm squash.

Blend until smooth.

Pour the butternut squash mixture into a pie pan.

Let the pie sit in the fridge for about 3-4 hours then serve chilled with coconut yogurt (if desired).
Nutrition
Serving:
1
piece
|
Calories:
308
kcal
|
Carbohydrates:
36
g
|
Protein:
3
g
|
Fat:
19
g
|
Saturated Fat:
17
g
|
Sodium:
160
mg
|
Potassium:
499
mg
|
Fiber:
3
g
|
Sugar:
26
g
|
Vitamin A:
5209
IU
|
Vitamin C:
11
mg
|
Calcium:
62
mg
|
Iron:
2
mg
Do you like to eat produce when it's in season? What's your favorite season?? Tell me in the comments below.