Please note that this recipe is not AIP/Paleo. However, I'm looking forward to changing the recipe to make it compliant soon.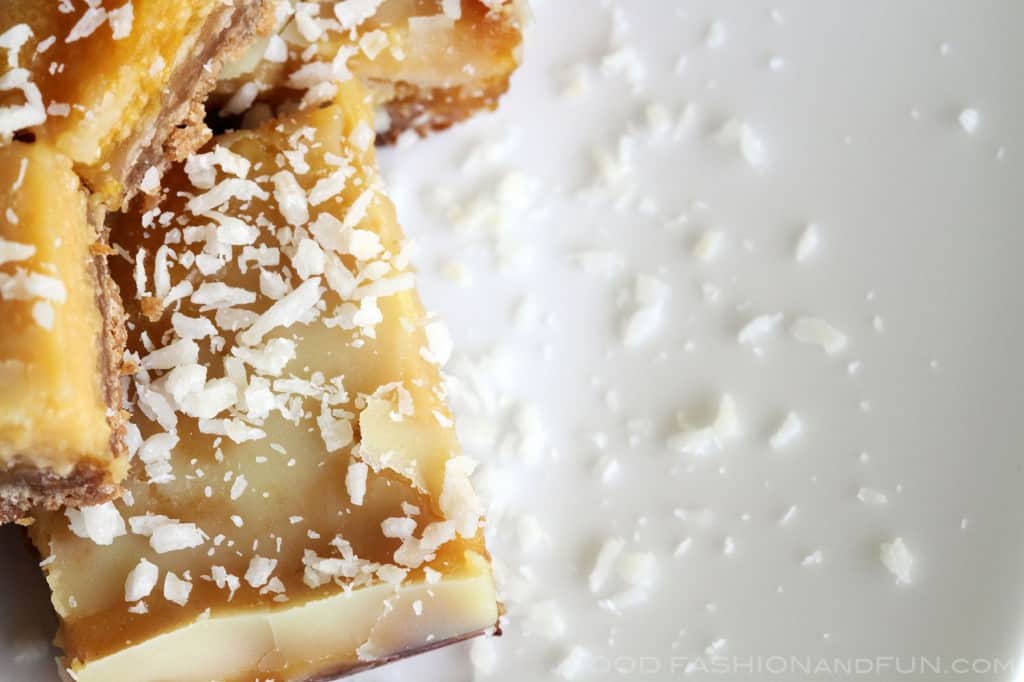 Mango Coconut Bars
Serves: 8
Crust:
Vegetable oil cooking spray
24 coconut cookies, broken into 1-inch pieces (about 1 cup)
2 1/2 tablespoons unsalted butter, chopped into 1/2-inch pieces, chilled
1/4 cup unsweetened shredded coconut
1/8 packed cup dark brown sugar
1/2 cup mango preserves
Filling:
1/4 cup semisweet white chocolate chips, such as Ghirardelli
1/2 cup shredded coconut
1/4 cup mango preserves
1/2 cup mascarpone, at room temperature (4 ounces)
1/2 cup coconut cream, at room temperature (4 ounces)
3 tablespoons egg replacer combined with 8 tablespoons of water
1/4 cup granulated sugar
1 teaspoon pure vanilla extract
Special equipment: Square nonstick metal baking pan
Parchment paper
For the crust: Place an oven rack in the middle of the oven and preheat to 325 degrees F.
Spray the pan with vegetable oil cooking spray. Lay a parchment paper in the pan, allowing the excess paper to overhang the sides. Spray the parchment paper lightly with vegetable oil cooking spray.
Blend the cookies, butter, coconut and brown sugar in a food processor until the mixture forms moist crumbs.
Firmly press the crumbs onto the bottom of the pan. Bake for 15 minutes. Cool the crust completely, about 25 minutes.
Spread the mango in an even layer over the crust using a spatula.
For the filling: Place the chocolate and mango in a small bowl over a saucepan of barely simmering water. Stir occasionally until the mixture is melted and very smooth.
Beat the cheese, coconut cream, egg replacer/water mixture, granulated sugar and vanilla until smooth, using a whisk, in a medium bowl.
Pour the batter over the cooled crust.
Sprinkle the shredded coconut over the batter.
Randomly spoon the melted chocolate mixture over the batter. Swirl the chocolate mixture into the batter, using the tip of a knife.
Bake until light golden and the center of the filling jiggles slightly when the pan is gently shaken, about 40 minutes.
Transfer the baking dish to a wire rack and cool for 1 hour.
Cover the pan with plastic and refrigerate for at least 6 hours or preferably overnight until firm.
Run a thin spatula around the sedges of the pan to loosen the filling. Cut the bars into 1 1/2-by-2-inch bars using a damp knife.
Mango preserves and coconut cookies can but hard to find. I found them at Trader Joes but you can substitute them with your favorite jam and vanilla wafers.