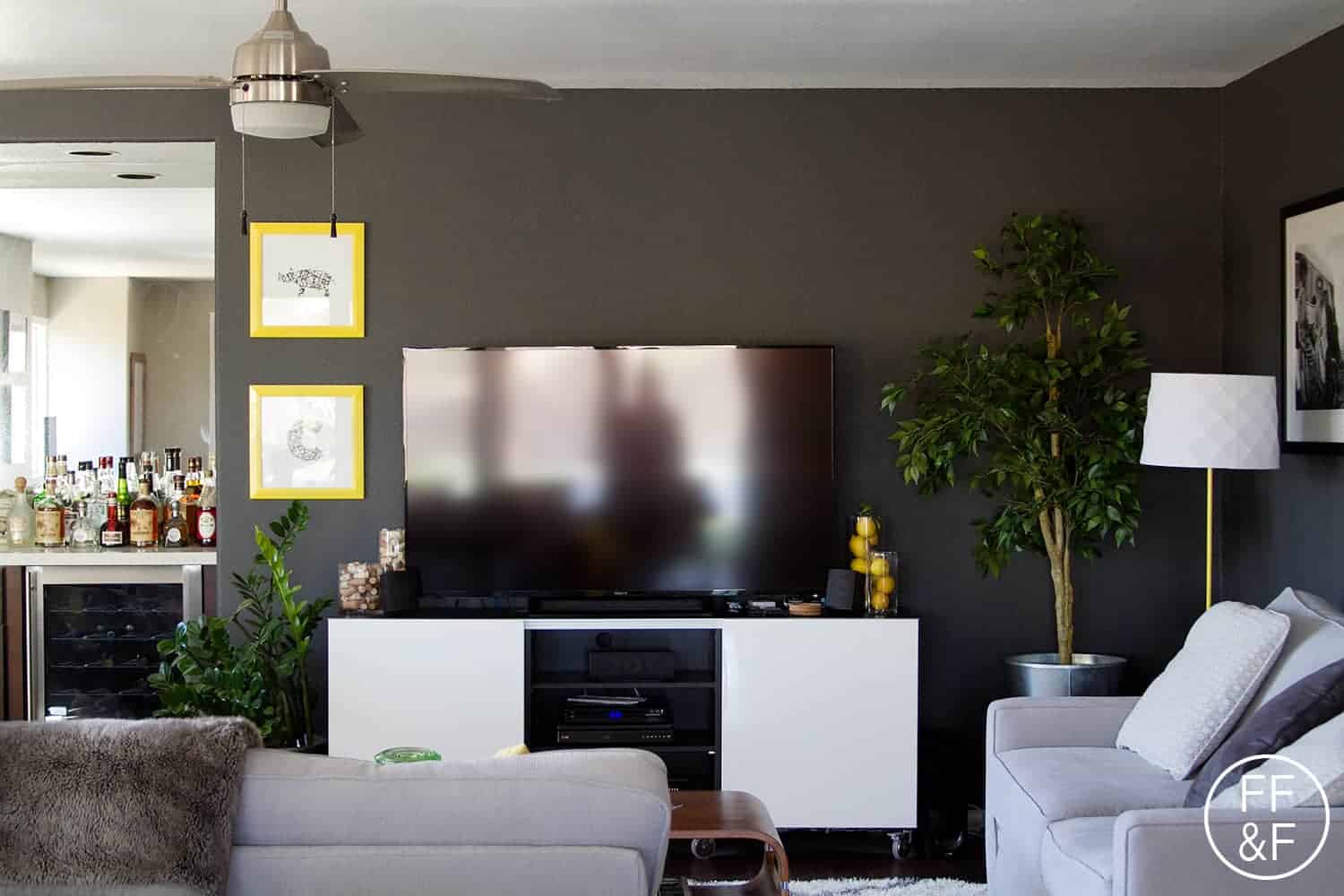 Did you see my Living Room Renovation: Before and After? It was almost a 2 year renovation and decoration project. Now that we're settled, I wanted to give you a list of sources and my thoughts on the space.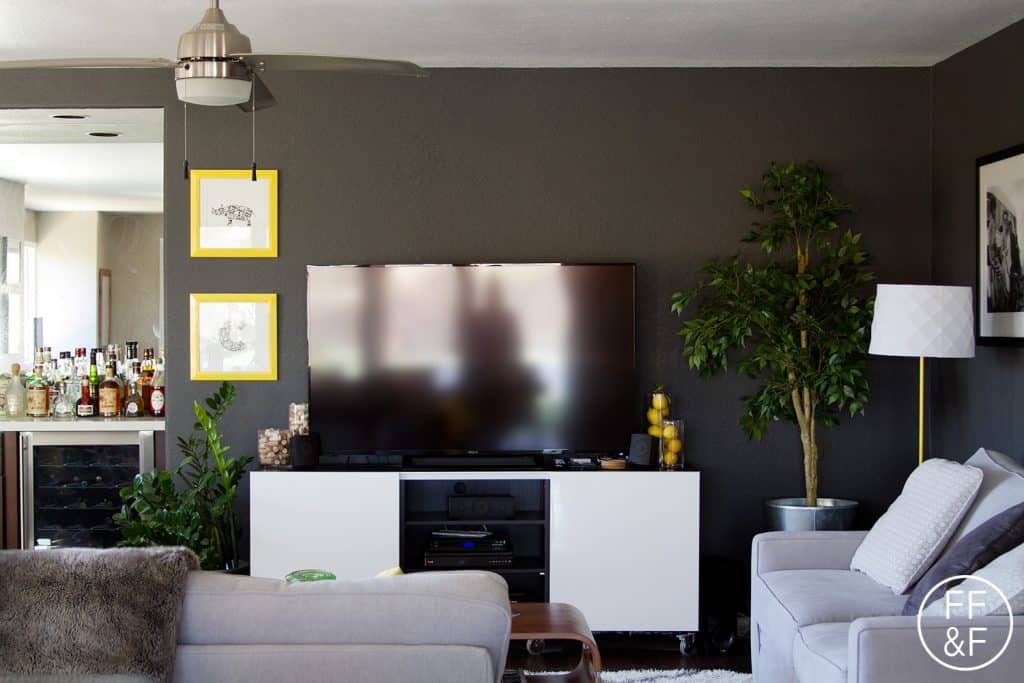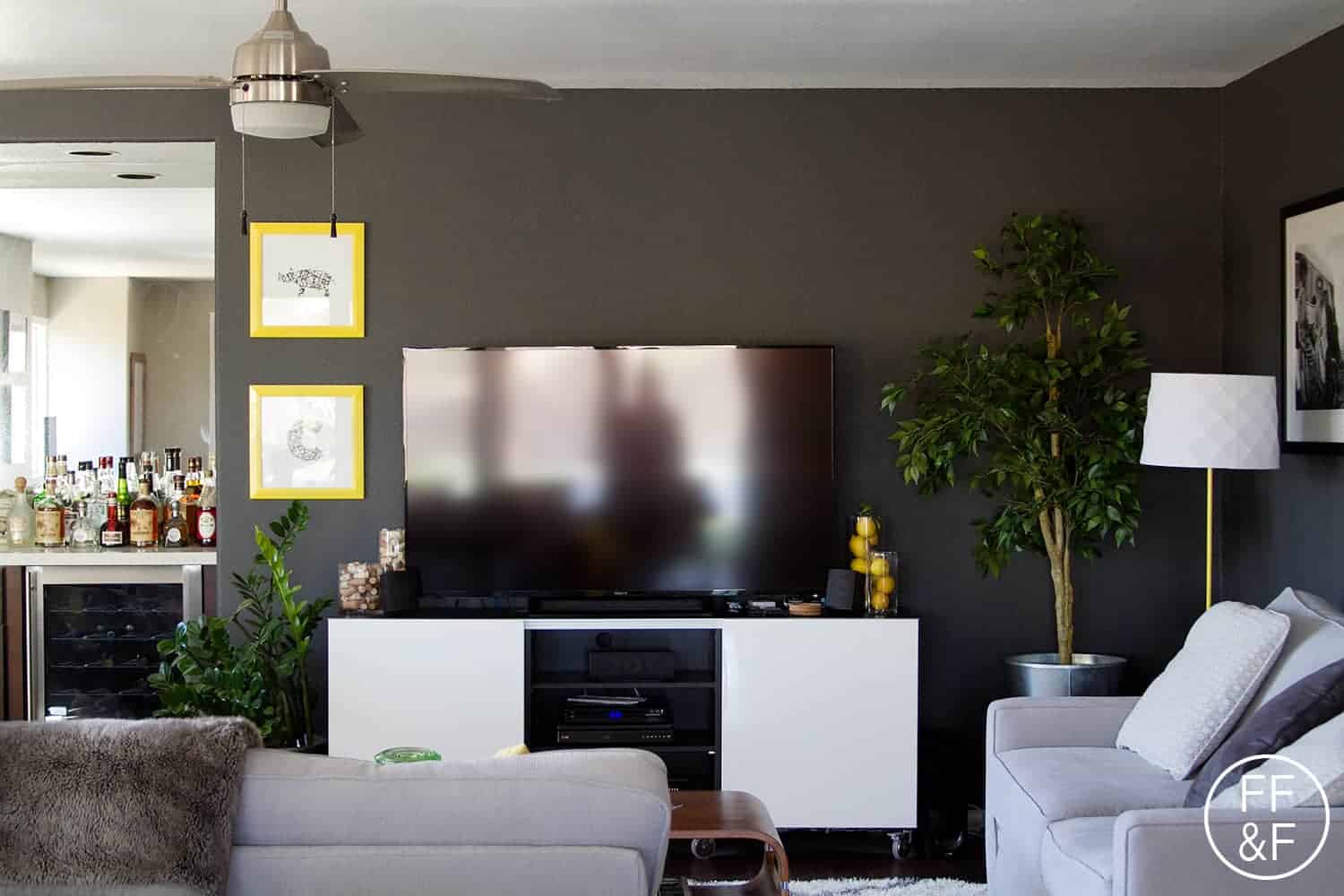 We updated the counter and cabinets and added a wine fridge (which also stores beer for the hubby) to the bar area. The wine fridge was purchased from Home Depot and it's the perfect addition to the bar. It's been great. No problems and it's quiet as a mouse. I couldn't find the exact model we purchased but here is a very similar wine fridge.
I see all these cute bar carts online which is great for a small space (we had one in our previous condo) but a full bar area with a sink really fits our lifestyle. It's fantastic for parties. One thing that we didn't replace was the mirror, which was a huge mistake. Apparently mirrors are super cheap. Ours is starting to show it's age and the mirror area seems like a waste of space. I've got a few ideas how to finish the space. You may see a bar makeover in the future.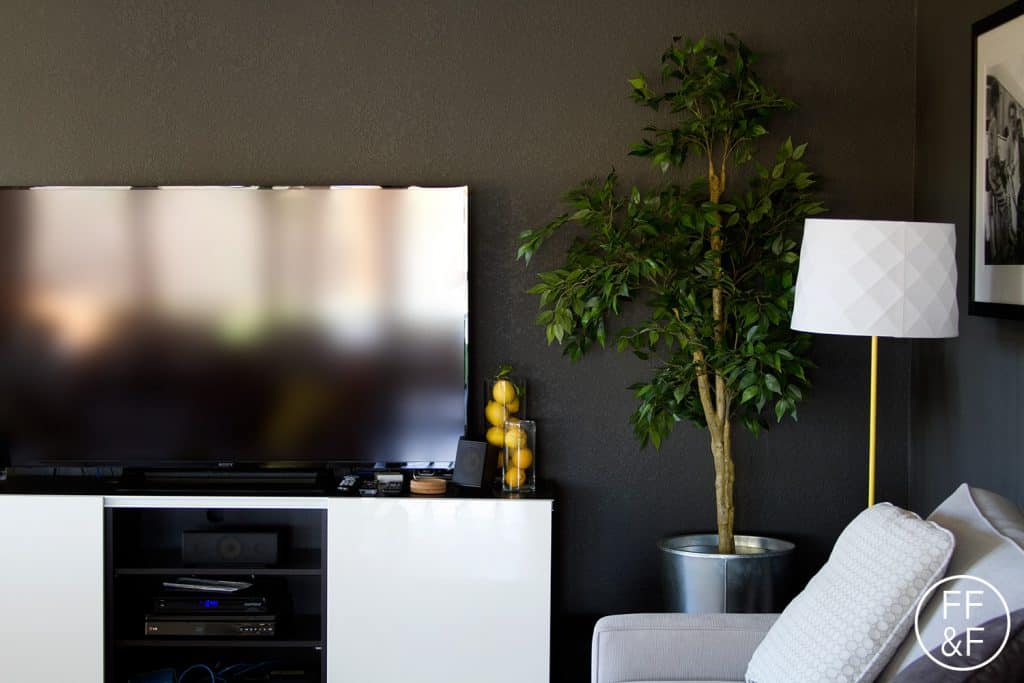 The TV console was leftover from our previous home. We original purchased a Besta system combination from Ikea with fake wood paneling fronts. The wood paneling didn't look good in the new space as it clashed with the dark walls and wood flooring. We went back to Ikea and bought new doors for the console in white. It made a huge difference.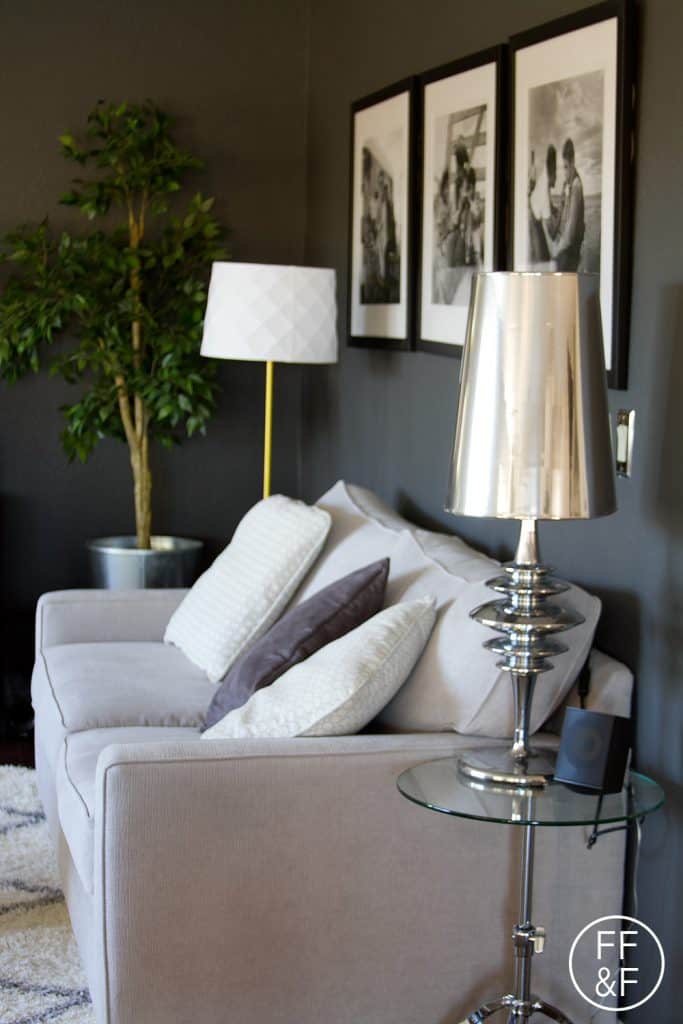 One of the most surprising sources for us was Living Spaces. I always thought they had more traditional furniture so I wasn't really interested. However, after looking at every furniture store in southern California for affordable and practical couches, I was desperate. Living Spaces does have traditional furniture but if you look around you can find some more modern pieces. They also have pretty good prices. The thing that really sold us was that they offered a five-year warranty on the fabric. We like to live in our home and tend to beat up furniture so we knew that the warranty would come in handy. With a little one, we'll be sure to use it.
One of my favorite sources for furniture and home decor is thrift stores and craigslist. I love getting a good deal and then transforming it for our home. The Eames chair was a craigslist purchase from a few years ago. It's vintage and made of real leather. It's a little beat up but costs significantly less than a brand new one.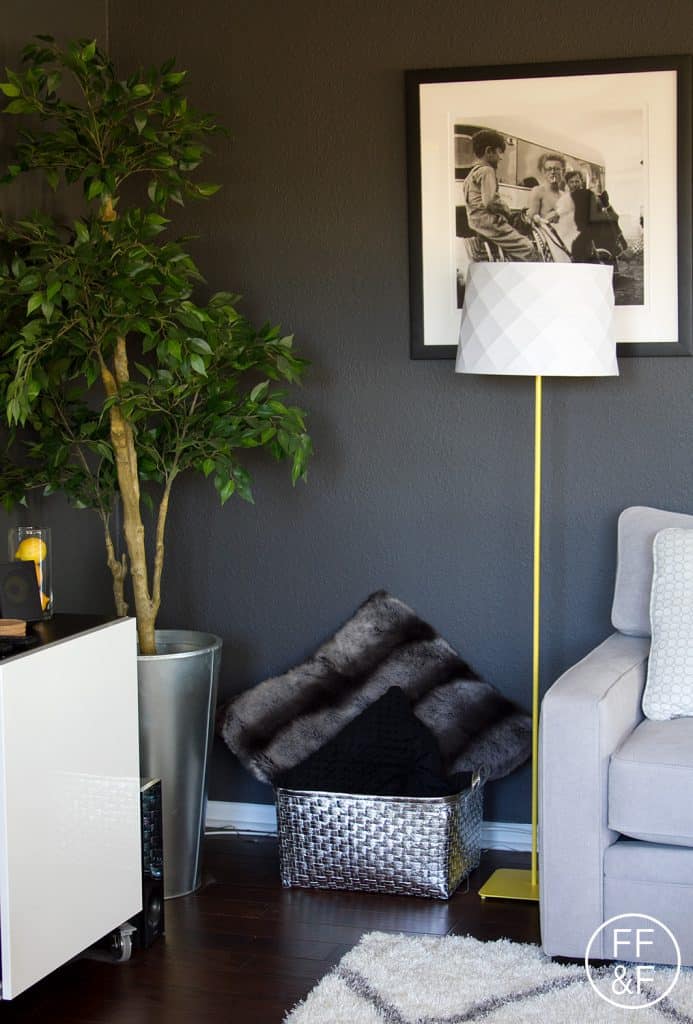 I bought a few '90s frames at thrift stores and spray-painted them yellow to fit in with our décor. I also spray painted an old lamp to go with the frames. You can see the before in my Simple DIY Lamp Makeover post.
The rhino print came courtesy of Minted.com. I wanted something black and white but graphic to compliment the photographs I already had in the room. I made the 'C' print in Photoshop to match the style of the rhino. If rhino's aren't your thing then, I've done an entire post on a few of my favorite black and white abstract prints from Minted.com. Any of those prints would have looked great in the space as well.
The photographs are by a few of my favorite photographers, Bruce McBroom and Richard Miller, via mptvimages.com.
The coffee table was one of our splurges for the room. It was more than we would normally spend but we tried a few other tables and nothing worked in the space. When we finally saw this table at overstock, we feel in love and couldn't resist. It's wood veneer but it's still nicely made.
We wanted something to lighten up the room since the walls were so dark. We feel in love with this diamond patterned rug from overstock. It's a shag rug that is super comfy on your feet. However, it's white. It gets matted and dirty really quickly so we know it won't last forever. That being said, it was affordable so we're ok with just getting a few years out of it. Since we're having a kid, I'm sure we're going to want to change around a few things to make the space more kid friendly. I can't imagine this rug will stand up against a toddler so we'll probably switch it out in the next few years. In the meantime, we're just going to enjoy it.
You can follow
#BethHomeProject

on social media as we finish renovating and decorating the rest of the house.
If you have any thoughts, questions or comments about the living room renovation, let me know. I'd love to hear what you think!
https://bonaippetit.com/wp-content/uploads/2016/02/Living-Room-After-55wm.jpg
1000
1500
Beth
https://bonaippetit.com/wp-content/uploads/2017/10/new-bon-logo.png
Beth
2016-04-27 12:00:00
2017-03-16 21:56:34
Living Room Product Reviews and Sources