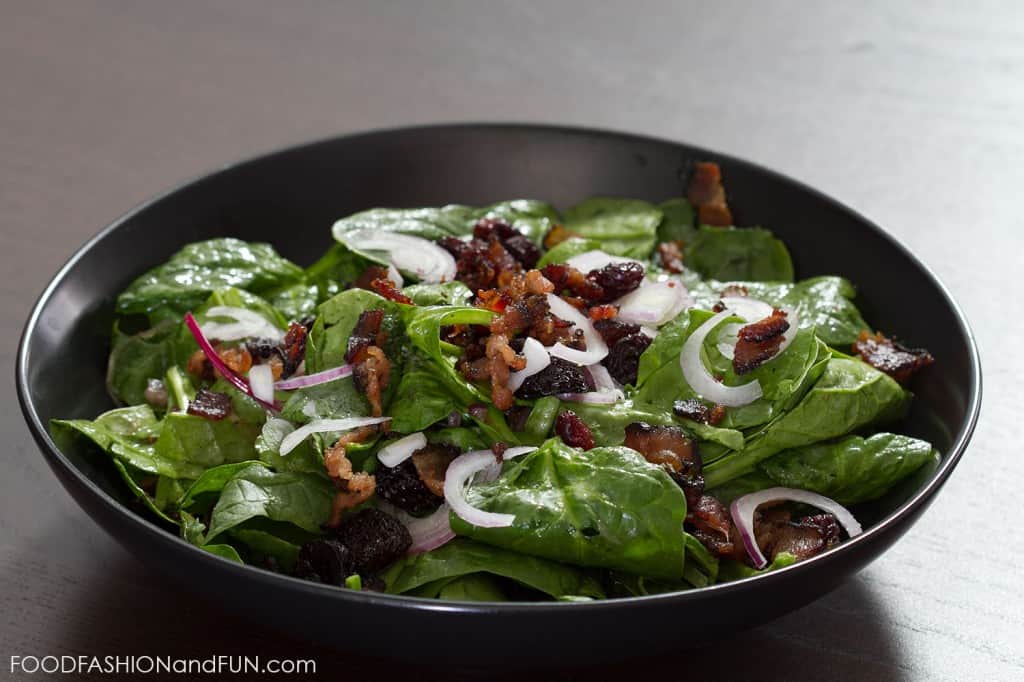 Spinach Salad with Warm Bacon Vinaigrette
Serves 4-6
1 pound baby spinach
1 small red onion, very thinly sliced
1 cup dried bing cherries
8 pieces thick-sliced bacon, chopped
1/4 cup red wine vinegar
1/4 cup honey
2 shallots, chopped
Coarse salt and freshly ground black pepper to taste
Place spinach in a large, wide salad serving bowl.
Scatter with red onion and cherries.
In a large skillet, fry bacon bits over medium-high heat until they're brown and crisp and have rendered their fat.
Use a slotted spoon to scoop them out of the skillet and spread them on a piece of paper towel briefly before sprinkling them over the salad.
Add the shallots to the bacon fat and cook until just soft.
Whisk in the red wine vinegar and honey.
Pour over entire salad and season salt and pepper.
Toss gently and serve hot.
I love salads but my boy absolutely does not.  He prefers heartier meals.  This salad meets in the middle.  I get my lettuce while he gets his meat.  Also, spinach is much more hearty compared to iceburg which helps this salad feel a little more substansial.  The bacon gives a lot of flavor and works really well with the red onion.  I love the sweetness of the dried cherries with the fattiness of the bacon.  Yum!
I'm really into wood serving dishes and I wish this was in my kitchen.  This salad would look so pretty next to the wood.