Did you know that you can eat leek greens?? No need to throw the greens in the trash! They are totally edible and I've shared my recipe for Sautéed Leek Greens with Apples and Bacon below along with a few other recipe ideas.
I'm a big fan of raising independent kids who love food. I think allowing them to help in the kitchen 'kills two birds with one stone.' My son is a pretty picker eater right now but he loves helping me in the kitchen. I want to encourage this self-reliance so letting him help wash the leeks for this recipe was a no-brainer. Tyler is currently a picky eater but I'm hoping that by letting him help in the kitchen will teach him how to cook and encourage a love of healthy food just like his parents. The kitchen and kid were filled with water (toddlers can't NOT splash when they see water) but it was totally worth it! Now back to the recipe . . .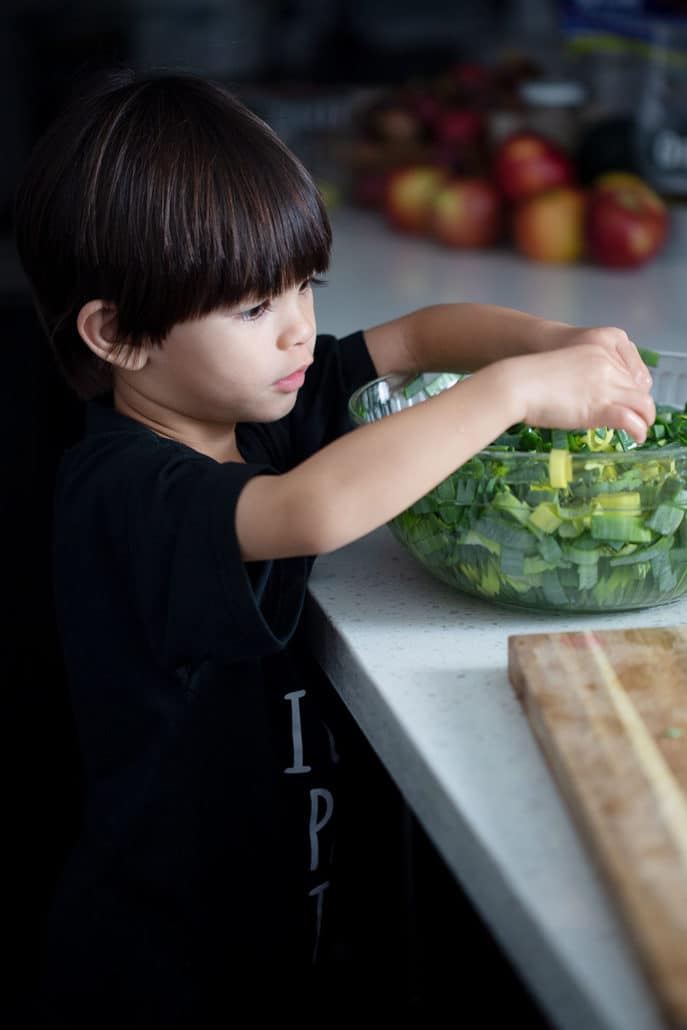 What part of a leek is edible?
Most recipes use only the white part of the leek however the green top is also edible. It's a bit tougher and has a stronger onion flavor than its white counterpart. It's just as delicious and tastes great with apples and bacon.
What do you do with the green part of leeks?
First, you should try making this Sautéed Leek Greens with Apples and Bacon recipe. If you need other ideas try adding them to your homemade bone broth or add them to an omelet (eggs are an AIP reintroduction).
Why are leeks so dirty?
Leeks grow in the dirt like onions. The white parts are the part that's hidden underground so dirt seems to make it's way into ever crevice of the leek.
How do you prepare leeks?
You need to slice according to your recipe and then clean them really well. Nothing ruins a dish like chomping down on sand or dirt! If you're looking for instructions on How to Clean Leeks click here. It's got step-by-step instructions plus a video.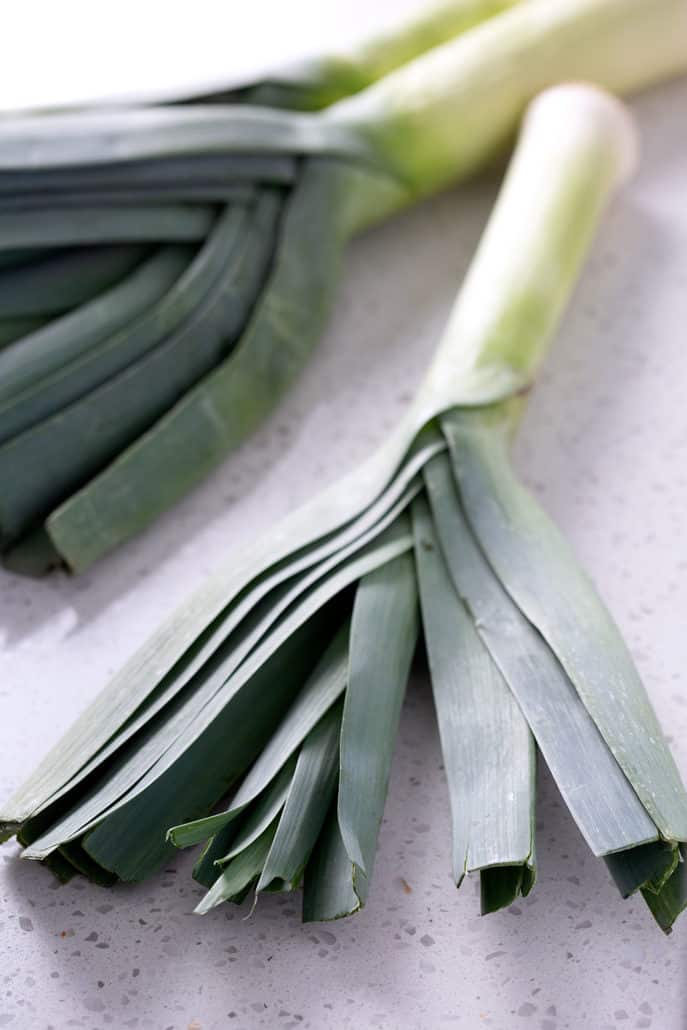 How do you make Sautéed Leek Greens with Apples and Bacon
Add bacon to a large sauté pan over high heat. Cook the bacon until crispy, about 5 minutes, flipping half way through. Remove the bacon and set aside.
Next add the leek greens to the pan. Cook until soft, about 3 minutes, while string occasionally.
Then add the apples and continue cooking and stirring until the apples are warmed through, another 3 minutes.
Once finished, transfer to a serving dish. Crumble the bacon over the top of the dish to serve.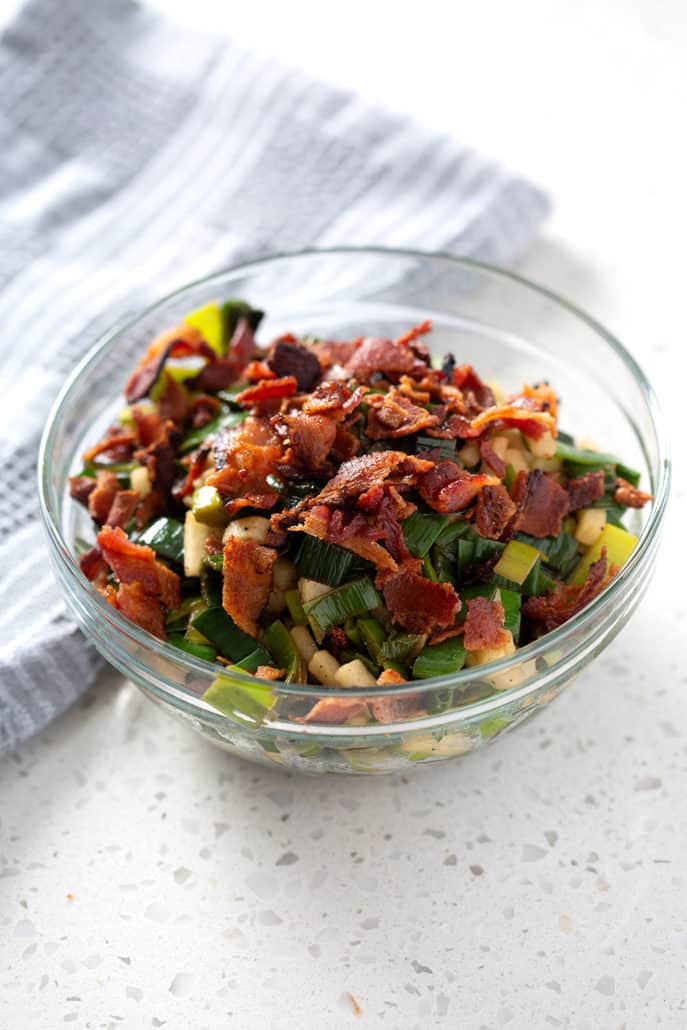 Tips for making the best Sautéed Leek Greens with Apples and Bacon
If you like this Sautéed Leek Greens with Apples and Bacon recipe, you'll love these recipes using leeks.
Love seeing my delicious recipes? You can also FOLLOW ME on FACEBOOK, INSTAGRAM and PINTEREST to see more delicious food and what I'm up to.
Print Recipe
Sauteed Leek Green with Apple and Bacon
Not sure what to do with your leftover leek green? Don't throw them out. Turn them into this delicious Sautéed Leek Green with Apples and Bacon recipe. This recipe suits the Whole30, Paleo, AIP diets.
Ingredients
3

Leek Greens

washed thoroughly and chopped

3

slices

Bacon

make sure to get high quality, sugar free from a brand like Pederson's or US Wellness Meats

1

Apple

finely diced

1/4

teaspoon

Salt

1/4

teaspoon

Dried Thyme

1/4

teaspoon

Garlic Powder

My favorite is Simply Organics!
Notes
Make sure to clean the leeks thoroughly using this method.
This recipe moves quickly so have all your ingredients ready to go.
This dish goes well as a side with a juicy pork chop or steak.
Nutrition
Serving:
1
serving
|
Calories:
134
kcal
|
Carbohydrates:
16
g
|
Protein:
3
g
|
Fat:
7
g
|
Saturated Fat:
2
g
|
Cholesterol:
11
mg
|
Sodium:
269
mg
|
Potassium:
202
mg
|
Fiber:
2
g
|
Sugar:
7
g
|
Vitamin A:
1137
IU
|
Vitamin C:
10
mg
|
Calcium:
42
mg
|
Iron:
2
mg
Helpful Info for All Recipes
I always use extra virgin olive oil in all of my recipes unless stated otherwise.
I always use Himalayan sea salt or Celtic sea salt, unless otherwise noted.
The majority of my recipes are strict AIP or include notations for reintroductions. However while I make every effort to label non-AIP ingredients and recipes sometimes they slip past me. If you have questions, please ask in advance.
Did you make this recipe? I love hearing your thoughts on my recipes so please rate and comment below.