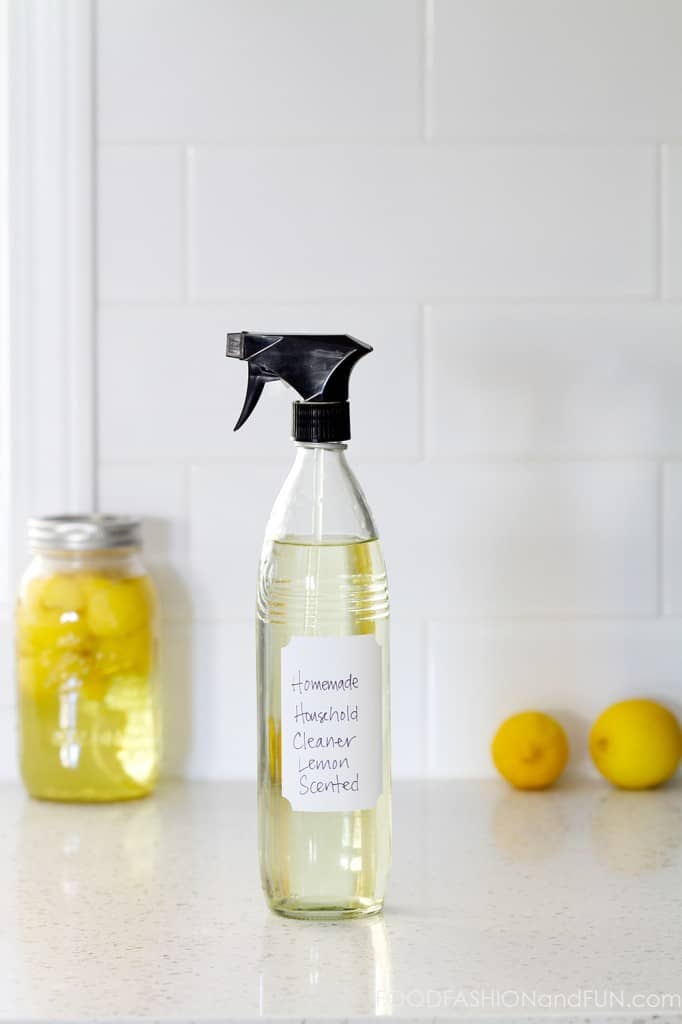 I used to think that the house had to smell like chemicals for it to be clean.  Then, one day, my dad said to me 'my grandmother used to use vinegar to clean everything.  If it's good enough for her then it should be good enough for me.'  It really made me stop and think about why we have an aisle of chemicals at the grocery store dedicated to cleaning.  There is literally a different product for everything in your house!  How many different cleaners do we need?  Are they really any better than what my great-grandmother used to use?  I don't eat foods made with chemicals and I feel better when I don't, so why am I cleaning my house with them?  That led me on a journey that ended in making my own this recipe for Homemade Household Cleaner and starting The Whole Life Detox Facebook community (purpose of this group is to share simple, yet powerful ways you can live a less toxic life).
The added bonus is that this cleaner can be made for pennies. We get all the lemons off our tree, for free. However, lemons are pretty cheap and you can just save the rinds when you use the juice for other purposes. And a cup of vinegar is about 50 cents. Unless you are really dirty, that could keep your house clean for months.
Print
Homemade Household Cleaner
Ingredients
Use a funnel to pour the water and vinegar into a spray bottle.
Shake to combine and you are ready to start cleaning.
If you like this recipe, be sure to share it on Pinterest or leave a comment below!