I apologize for the delay in posting the last few posts in the renovation series. We actually finished back in December but ran into a few delays like a major storm that flooded our back yard and my third trimester. Both were unexpectedly difficult and I just wasn't up to shooting our yard. Nor was the front yard photo ready after it took a beating during the rough weather we were having. Now that is behind us, I'm excited to pick up where we left off.
There weren't a lot of major changes that happened in the front yard. The most dramatic construction was being done on the driveway. We graded the front yard so that the driveway wasn't at such a steep incline.
We also removed the generic bricks from around the tree in favor of a more organic look. When we first removed the bricks, we realized that we couldn't level out the ground around the tree to match the level of the rest of the yard. The roots of the magnolia tree had grown right up to the base of the tree. Luckily the grading of the front yard brought the level of the yard to almost match the base of the tree.
We left the rocks that were already there and plan to add more that were found during the demo of the backyard. We were lucky to find those boulders otherwise we would have had to purchase boulders from a stone quarry. I touched on this during the backyard demo post.
The existing walkway to the front door was in good shape but it looked dated. Instead of just demoing everything and starting from scratch, we cut the existing concrete walkway into large stepping-stones.
We really wanted to have large concrete squares with rows of room for gravel as the driveway.  It's a more modern look that we really wanted to incorporate into the front yard. However, poured concrete is shockingly expensive. We couldn't believe that pavers were more affordable. That's how we ended up with a driveway made of pavers.
While we are going for a desert look in the front yard, compared to a lusher backyard, we wanted to bring in some of the design elements to unify the look. The walkway and pavers mimic the stepping-stones and the patio area in the backyard.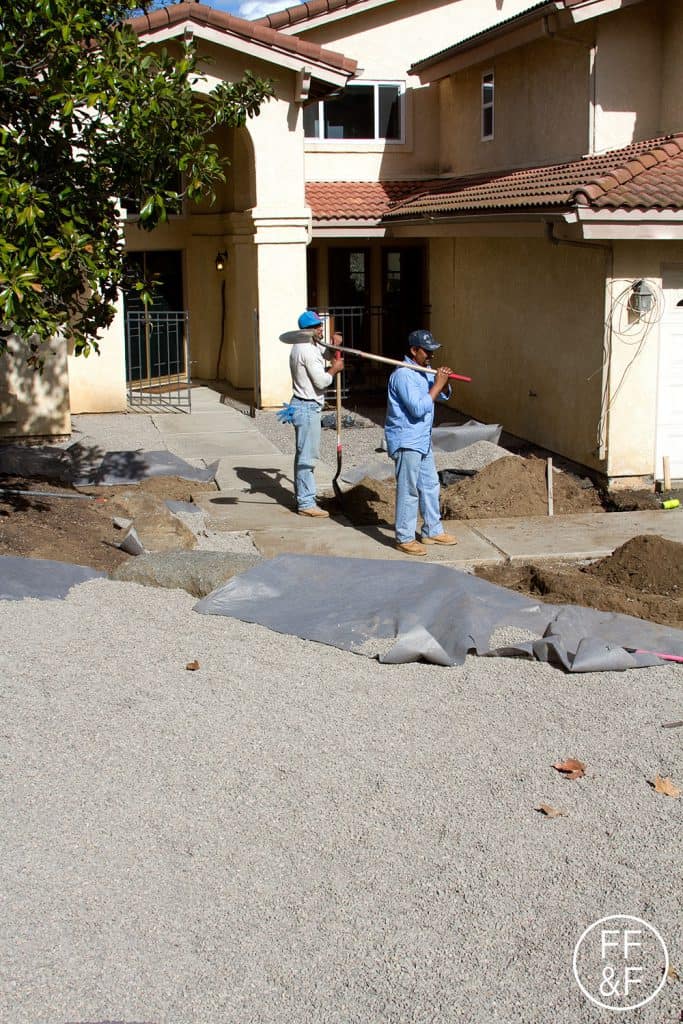 Most of the front yard will be covered in gravel so the renovation of the front yard will go quickly compared to the backyard. It will happen over the course a few days not months.
That's all for the behind the scenes sage of our home renovation. Stay tuned for the next step, which is the Backyard Reveal! In the meantime, be sure to follow along the renovation on instagram using the hashtag #BethHomeProject.
If you missed my last post, check out Front and Backyard Renovation: Built-In BBQ Area, Cabanas and Raised Garden Beds.
https://bonaippetit.com/wp-content/uploads/2016/02/Driveway-demo-4wm.jpg
1500
1000
Beth
https://bonaippetit.com/wp-content/uploads/2017/10/new-bon-logo.png
Beth
2016-04-11 12:00:58
2017-03-16 21:55:55
Front and Backyard Renovation: Driveway and Front Walk