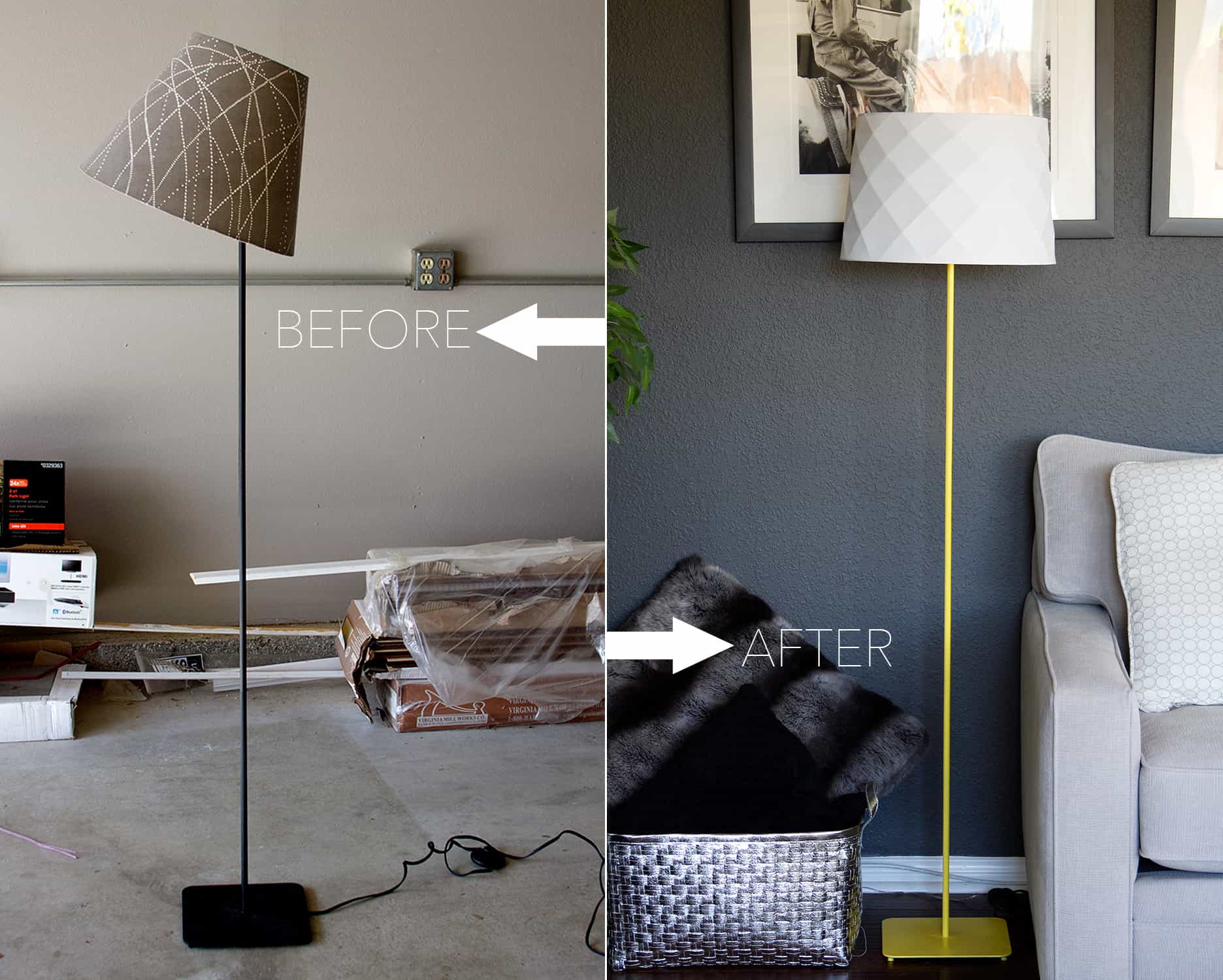 This lamp was leftover from my husband's single days. He's not one to throw things away so it could easily be ten years old and it was definitely showing it's age. The lampshade was broken and dated but luckily the lamp itself was sleek and streamlined. I loved the clean lines of the lamp as well as the fact that the light switch is on the floor. To turn it on, all you need to do it step on the clicker. I decided to breathe new life into this lamp and give it a makeover using spray paint and a new lampshade.
I wanted to bring some color into the living room so I decided to spray paint the lamp a bright yellow. While yellow isn't for everyone, you can use what ever color you'd like as spray paint comes in a large variety of colors. Yellow worked for our home as it's a small pop of color in a very neutral room.
I also ditched the '90s era lamp shade for a white, geometric shade from Target. I actually purchased the lamp shade over a year ago, long before we finished all of the other renovations in the house and before I was ready to start thinking about living room décor. It was affordable (under $20) and so cool that I couldn't pass it up. It was so exciting to finally unwrap it and set it up the finished lamp in our living room. Lampshades can get expensive so if you're looking for something large, an irregular size or fabric then be prepared to spend a little bit more or hunt for something on sale.
Here's what you need:
Tape
Plastic Bag and/or paper
Drop cloth or something to protect to protect the area in which you are painting
Lamp Shade
Here's what you need to do:
Use the sand paper to rough up the area that you want to paint. The paint will stick to the lamp better when the surface is rough.
Wipe down the lamp with a damp cloth to remove any dust from the sanding.
Tape areas that you don't want to be painted. I put the cord in a plastic bag and then taped the plastic bag closed. I also taped off the socket so keep paint away from that area. I'm not sure if the light would still work if paint blocked the connections of the lightbulb and socket.
Next you need to put down a few drop cloths in a covered but ventilated area, like a covered porch or open garage. Keep in mind that the spray of the paint can easily reach 5 feet. I used a box as the base of the lamp is quite small and I didn't care about the concrete floor of our garage.
Put the lamp in the center of your drop cloth and start spray painting. Do a light first layer, let dry and then repeat. Make sure you spray in light, even coats. Spraying too much paint onto the surface in one application should be avoided as it leaves drip marks. If you end up with drip marks, let the piece dry completely over 24 hours, sand the drip mark, wipe it down and then respray.
Before you finish up, carefully inspect the lamp. You may need a third coat to get an even coating.
Once you have finished painting, let the pieces dry for 24 hours before removing the tape and using the lamp.
If you don't have an old lamp around the house, this is a great way to transform a thrift store find. As long as it's got good lines, spray paint can transform almost anything.
Have you tried this makeover?, If so, be sure to snap a photo and hashtag it #FOODFASHIONANDFUN. I'd love to see what you make!
https://bonaippetit.com/wp-content/uploads/2015/12/DIY-Lamp-Transformation-before-after.jpg
1500
1872
Beth
https://bonaippetit.com/wp-content/uploads/2017/10/new-bon-logo.png
Beth
2016-01-27 12:00:35
2016-01-09 07:24:36
Simple DIY Lamp Makeover