My son is a huge fan of roasted French fries. He developed a taste for them after a few trips to fast food joints with my parents. Fast food places don't use good quality ingredients, especially the oil in which the potatoes are fried. These Crispy Baked Sweet Potatoes were my solution. He gets his French fries and I get nutritious, healthy food in his belly.
These Crispy Baked Sweet Potatoes are good too. Not just something to feed your kid but something that you can also enjoy. They are crispy on the outside and perfectly cooked on the inside, just like the best French fries should taste. If you're looking for more recipes to feed your family that are kid approved (my son loves them) check out my Tart Cherry and Plum Gummies, Slow Cooker Applesauce, Plantain Waffles, Oven Roasted Radishes, and Spinach Stew.
Getting sweet potato fries crispy when baked can be tricky if you don't know the secret. I spent years trying different methods but they always turned out mushy, burnt or completely undercooked. There are a few guidelines that I follow to get my crispy baked sweet potato fries just right.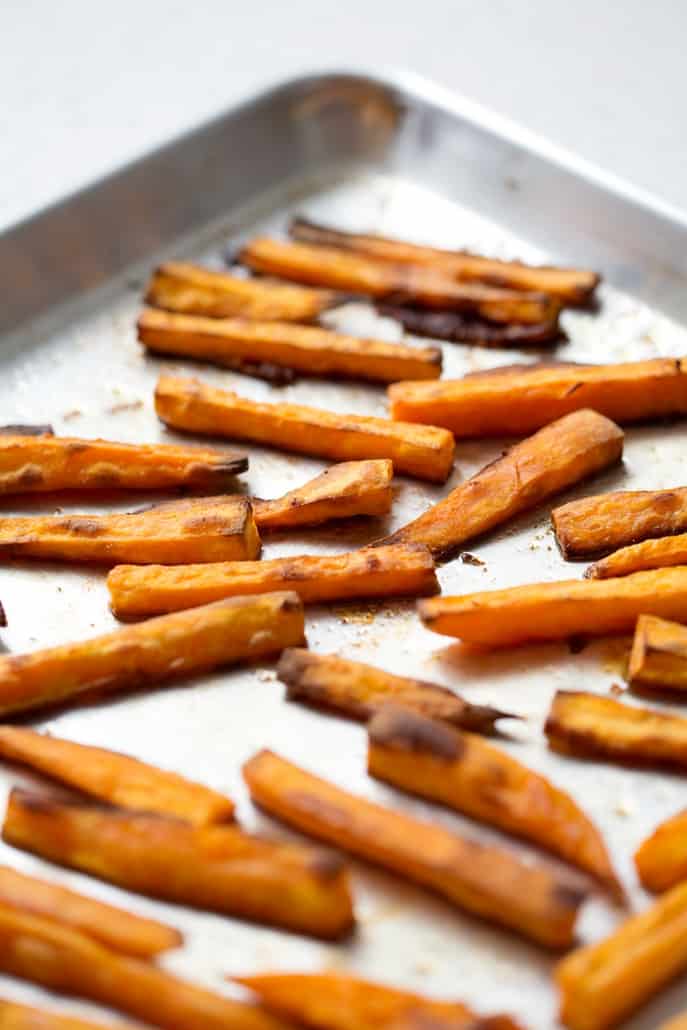 Cook at a high temperature. Don't try and rush this recipe by putting the fries into the oven before the oven has reached 425 degrees. It's important to have the oven at temperature otherwise you'll end up with mush.
Don't crowd the oven. It's really tempting to try and jam as many baking sheets into the oven to make more fries faster. Crowding the oven makes it harder for the oven to stay at temperature. You'll need to do one pan at a time otherwise you'll end up with mush again.
Don't crowd the baking sheet. You need to make sure that the fries aren't touching or lying on top of each other. They won't brown or get crispy if they are too close.
Print
Crispy Baked Sweet Potato Fries
Crispy Baked Sweet Potato Fries are really hard to do unless you have the right recipe. This recipe tells you the secret to crispy on the outside and fully cooked on the inside without deep-frying! This recipe is allergy friendly (gluten, dairy, shellfish, nut, egg, and soy free) and suits the autoimmune protocol diet (AIP), paleo and vegan diets.
Author: Beth
Prep Time:

20 minutes

Cook Time:

40-50 minutes

Total Time:

60-90 minutes

Yield:

4

1

x
Scale
Ingredients
2 Sweet Potatoes, peeled and sliced into 1/2 inch to 3/4 inch fries
1 teaspoon Salt, plus additional for serving
1/2 teaspoon Garlic Powder
4 tablespoons Olive Oil
Dried Parsley, Ground Pepper (optional toppings for serving)
Instructions
Preheat oven to 425 degrees.
Place the potatoes, salt, garlic powder and olive oil on the baking sheet and then toss. Take care to cover the oil and spices evenly.
Next make sure that the sweet potatoes are spread out in a single layer on the baking sheet. It's also best if they are not touching each other.
Place the baking sheet into the oven for 20 minutes.
Remove the baking sheet and toss the fries. Some of them may be a little stuck to the pan so use a spatula to gently remove them. Remember to make sure they are placed in a single layer.
Place the pan back into the oven for another 15-20 minutes or until the fries are done to your satisfaction.
Serve with additional salt, dried parsley or ground pepper (AIP Reintroduction), if desired.
If you like this recipe, be sure to share it on Pinterest or leave a comment below!