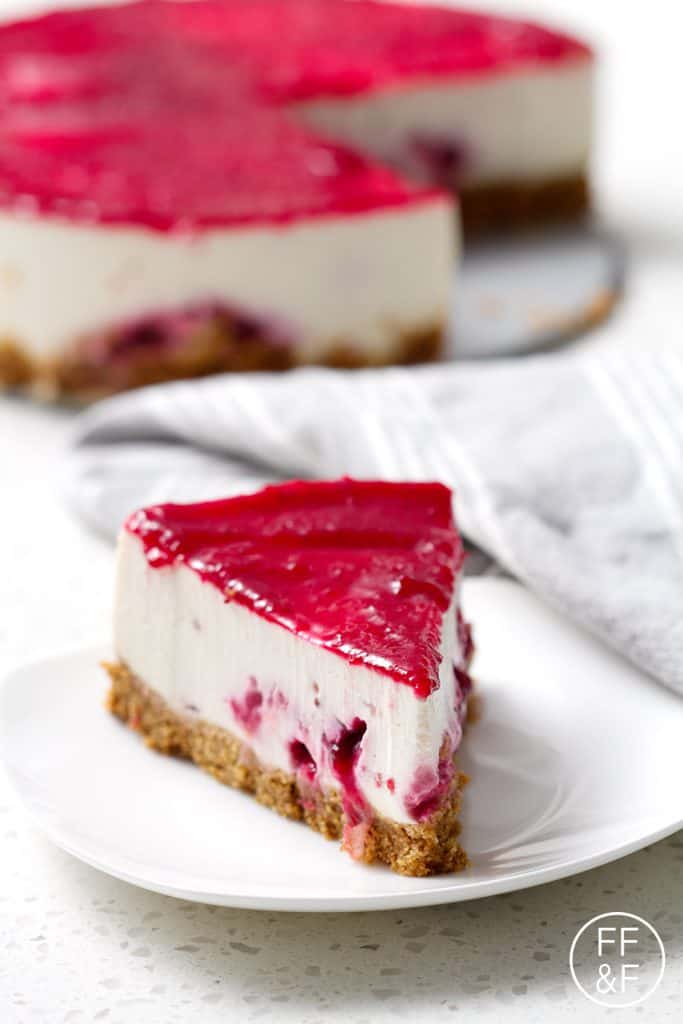 My husband has been asking for my Blueberry Swirl Cheesecake for the last few months. As it's pie-making season, cheesecake has been on the backburner. Also blueberries aren't in season so when I finally found some time to make the cheesecake, I needed a good substitute. I opened the fridge door and saw the thanksgiving leftovers. I had a huge container of cranberry sauce and thought 'Yes!' That's how my Blueberry Swirl Cheesecake became Cranberry Cheesecake.
This is now my husband's favorite way to eat cranberry sauce. He normally takes a tiny bite of the sauce and then make a fish face and squints his eyes. However, the creaminess of the cheesecake totally tempers the tartness of the cranberries.
The balance of ingredients means that you can't even tell that it's made with tofu. I've made this recipe using soy products (which makes it totally dairy free) instead of dairy based products. You can't taste the tofu even when it's made completely from soy products. It's pretty amazing.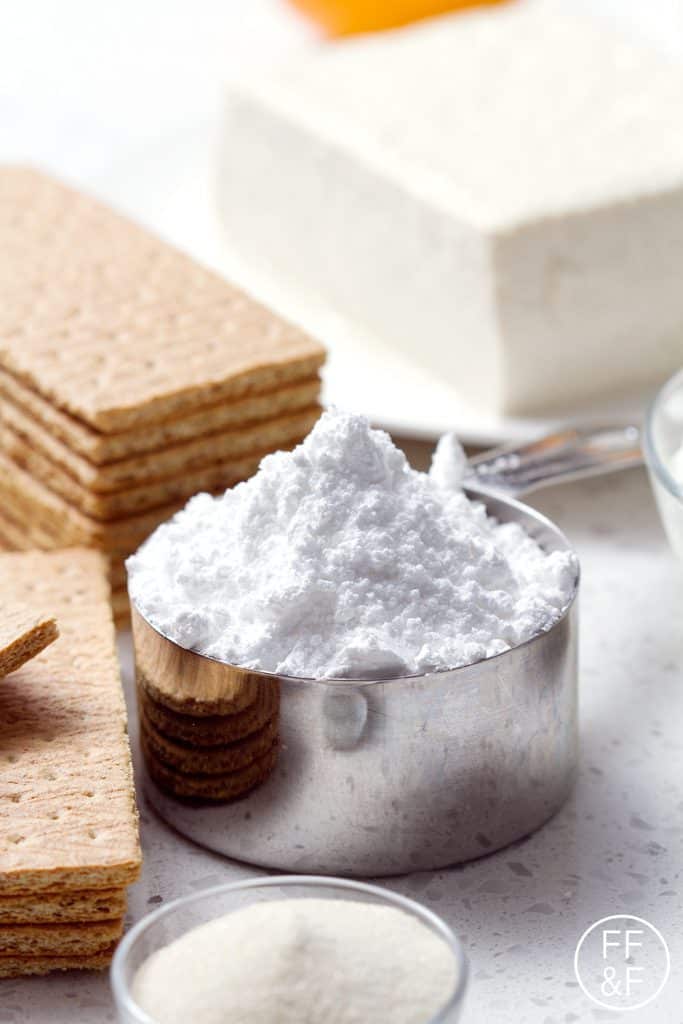 If you use soy-based products instead of dairy products and substitute agar agar for the gelatin then it would be completely vegan. I've never used agar agar so I'm not sure if they can be easily substituted but it's you're vegan it would be worth the attempt. If anyone tries it, I'd love to know how it turned out.
As I sit here writing this, the baby is kicking away in my belly. It's a reminder that I have a lot of be thankful for this year. I appreciate you sticking with me during my first trimester when I wasn't able to post very often. It's your comments and encouragement that keeps this blog going. Thank you for your continued support. I hope you all have a very merry christmas!
Print
Cranberry Cheesecake
Egg free and an almost no-bake cheesecake that can be made with leftover cranberry sauce.
Author:
Yield:

10

Category:

Dessert

Cuisine:

American
Ingredients
Crust
3 cups Graham Crackers, crushed (about 1 box or 14 ounces)
2/3 cup Butter, melted
Filling
14 ounces Firm Tofu, drained
2 tablespoons Gelatin Powder
1/2 cup Boiling Water
1 cup Cream Cheese (room temperature)
1 1/2 cups Sour Cream
1/2 cup Milk
1 1/4 cups Powdered Sugar
1 tablespoon Orange Juice
1 cup Cranberry Sauce plus an additional 1/2 cup for the topping
Instructions
Preheat the oven to 375 degrees.
Flip bottom of a 9-inch spring form pan so lip is facing down, then lock in place.
Stir together all crust ingredients in a bowl and then pour into the pan.
Press onto the bottom of the pan. Bake until set, about 15 minutes, then cool completely for about 45 minutes.
In a food processor, blend cream cheese, tofu, sour cream, milk, powdered sugar and orange juice till very smooth.
Sprinkle the gelatin powder over the boiling water in a small bowl and stir to combine.
Add the gelatin mixture to cream cheese mixture and blend well.
Alternately spoon the cream cheese filling and cranberry sauce into the pan, till all the mixtures are used up and gently shake the pan a little.
To make swirls, gently run a chopstick in circular motion.
Chill cake in refrigerator for at least 4 hours or overnight.
At least an hour before you are ready to serve, prepare the remaining 1/2 cup of cranberry sauce for the topping.
If the sauce isn't smooth, use an immersion blender or blender to smooth out the sauce.
Place the cranberry sauce in a microwavable bowl then place in the microwave and heat slightly, about 30 seconds. You don't want the sauce hot, just pourable.
Pour the cranberry sauce over the cheesecake and using a spatula smooth it out over the top. It should be a very thin layer.
Place the cheesecake back into the refrigerator for at least an hour so that the cranberry sauce can cool and firm up.
When you are ready to serve, use a knife to loosen the edges and then remove the side of the pan.
For perfect slices, cut cheesecake with a hot knife.
Notes
-You will need a 9-inch spring form pan for this recipe.
-I've made this cheesecake using soy as well as lactose free products. It works either way and tastes great.
-If you use soy based products instead of dairy products and substitute agar agar for the gelatin then it would be completely vegan.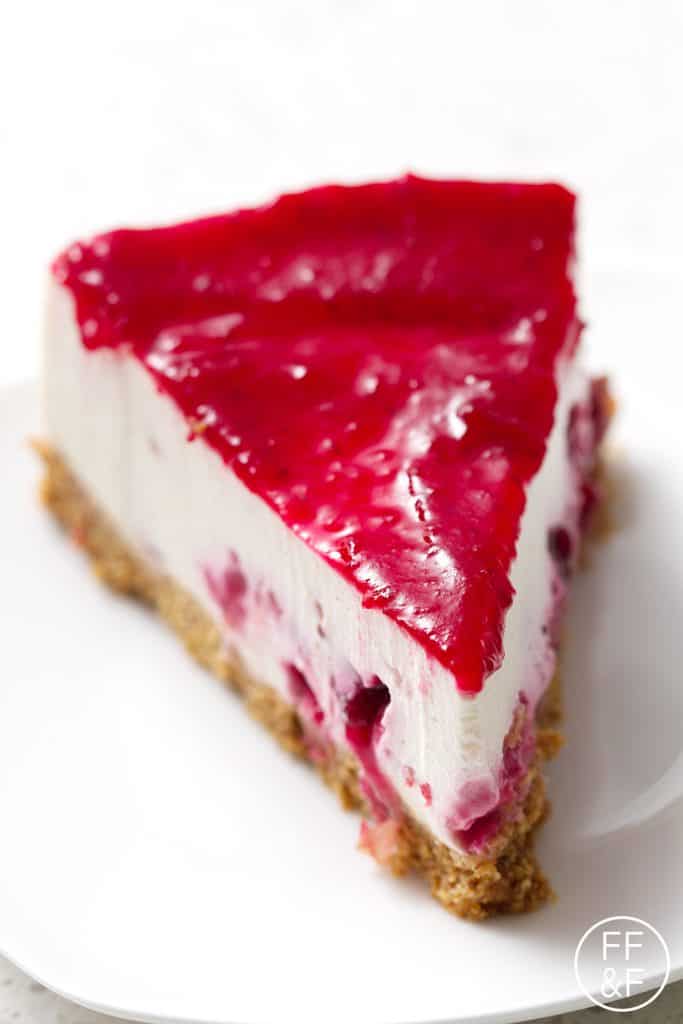 If you make this recipe, be sure to snap a photo and hashtag it #FOODFASHIONANDFUN. I'd love to see what you make!
https://bonaippetit.com/wp-content/uploads/2015/12/Cranberry-Swirl-Cheesecake-85wm.jpg
1500
1000
Beth
https://bonaippetit.com/wp-content/uploads/2017/10/new-bon-logo.png
Beth
2015-12-25 12:00:14
2018-02-14 19:05:37
Cranberry Cheesecake