These AIP Baked Artichokes require very little prep and very few ways to screw up this recipe. It's super easy and definitely a beginner friendly recipe. The whole fresh artichokes are baked with lemon and garlic, which infuses it with flavor. There's a little bit of lemon garlic is each bite. It's absolutely delicious.
How to cook artichokes in the oven?
I'm sure that there are multiple ways to cook artichokes in the oven but this may be my new favorite. My baked artichokes method steams and boils the artichoke, which keeps it from drying out. It also infuses the artichoke with the lemon garlic flavor so each bite tastes amazing, even without a dip.
To use my method, you need to place then into a dutch oven along with the aromatics. Add about 2 inches of boiling water into the pan. The amount of water will vary depending upon the size of the pan. Put the cover on the dutch oven and then put it into the oven and let cook for about 50 minutes up to 1 hour 30 minutes. Or until the outer leaves easily fall off when pulled.
What to dip artichokes in?
This recipe doesn't really need a dip as it tastes good on it's own. However, if you must dip then try these recipes.
Tips on making the best AIP Baked Artichokes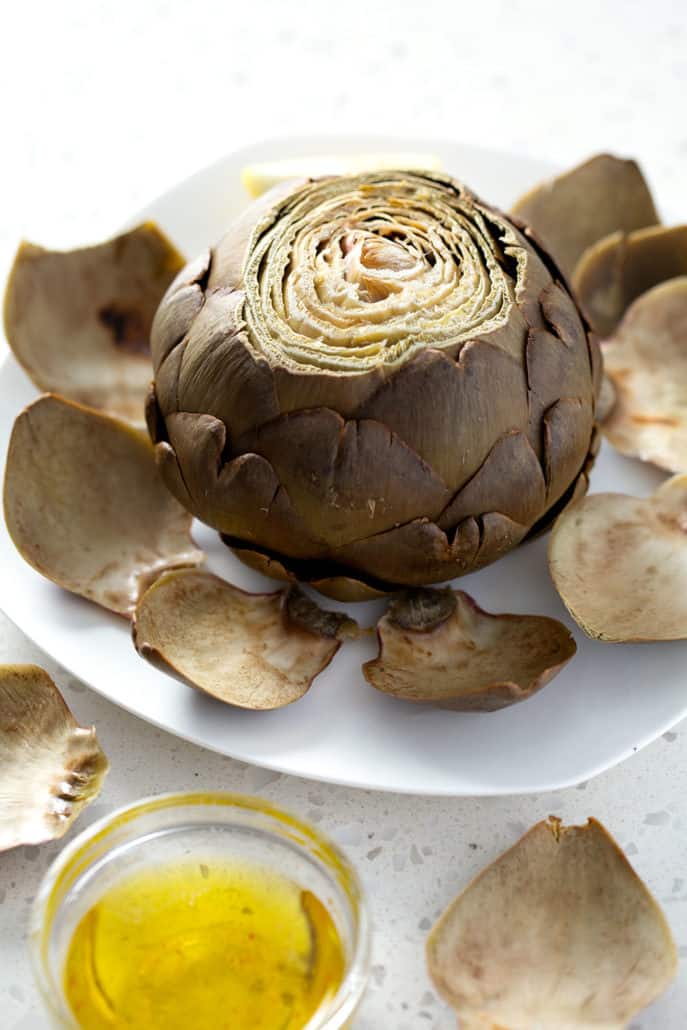 Print Recipe
Whole Baked Artichokes
AIP Baked Artichokes may be the simplest way to eat fresh artichokes. They are baked with lemon and seasonings so you don't even need any dip. Each bite is savory and delicious. This recipe fits the whole30, paleo and AIP diets.
Ingredients
2

Whole Fresh Artichokes

1

Dried Bay Leaf

1

Lemon

quartered

2

Garlic Cloves
Instructions
Preheat oven to 375 degrees.

To prep the artichokes, cut off the stem, leaving 1/2 inch from the bottom row of leaves.

Using kitchen scissors cut off 1/2-inch of the tips of all of the artichoke leaves. This step is optional but helpful especially when feeding kids.

Cut 1 inch from the top of the artichoke. It helps to use a serrated knife like a bread knife for this.

Take a piece of lemon and rub over the cut edges of the artichokes to keep them from turning brown.

To bake the artichokes, put about 1-inch of boiling water in the bottom of a Dutch oven that will snugly hold the artichokes. Add lemon, bay leaf, and garlic to the water.

Place the artichokes sitting upright in the water.

Cover the pot tightly with a lid. You're essentially steaming the artichokes so remember to cover the dish or this recipe will not work!

Bake for 1 hour or until a knife easily penetrates the heart of the artichoke or you can easily remove one of the outer petals. Depending on the size of the artichoke baking time can vary from 50 minutes to 1 hour 30 minutes.

Remove artichokes and place them on a serving dish to serve.
Nutrition
Serving:
4
g
|
Calories:
40
kcal
|
Carbohydrates:
10
g
|
Protein:
2
g
|
Fat:
1
g
|
Saturated Fat:
1
g
|
Sodium:
61
mg
|
Potassium:
274
mg
|
Fiber:
4
g
|
Sugar:
1
g
|
Vitamin C:
22
mg
|
Calcium:
38
mg
|
Iron:
1
mg
What is your favorite way to eat fresh artichokes? Let me know in the comments below.