You can use stew meat instead of chuck roast but keep in mind that the meat may be a bit tougher. Stew meat is meant to be cooked for a long time and this recipe just wont give you enough time for the meat to tenderize. I would also recommend making your own stock. Throwing some stuff in the slow cooker for a few hours takes very little effort but you end up with a very flavorful base for this soup. It's so much meatier than anything you can buy in the stores. It doesn't have any chemicals and zero salt, which is much better for you. I have a whole bunch of family coming in for the holidays and I'm thinking of doubling the recipe and serving this up for dinner. It's so hearty that it's a one-pot meal. I think it will be a crowd pleaser.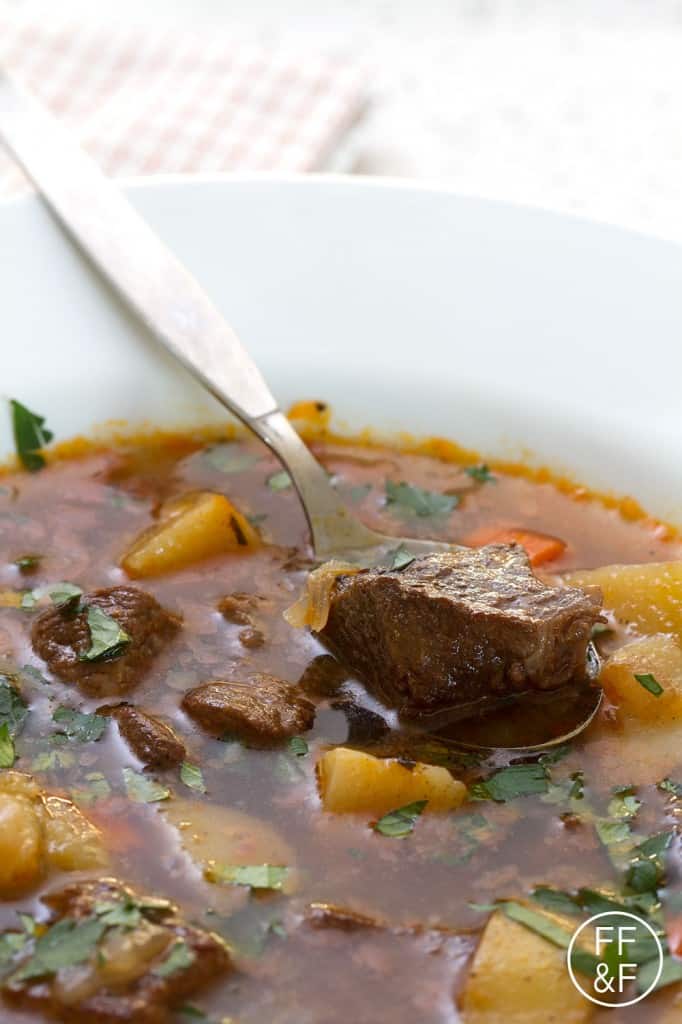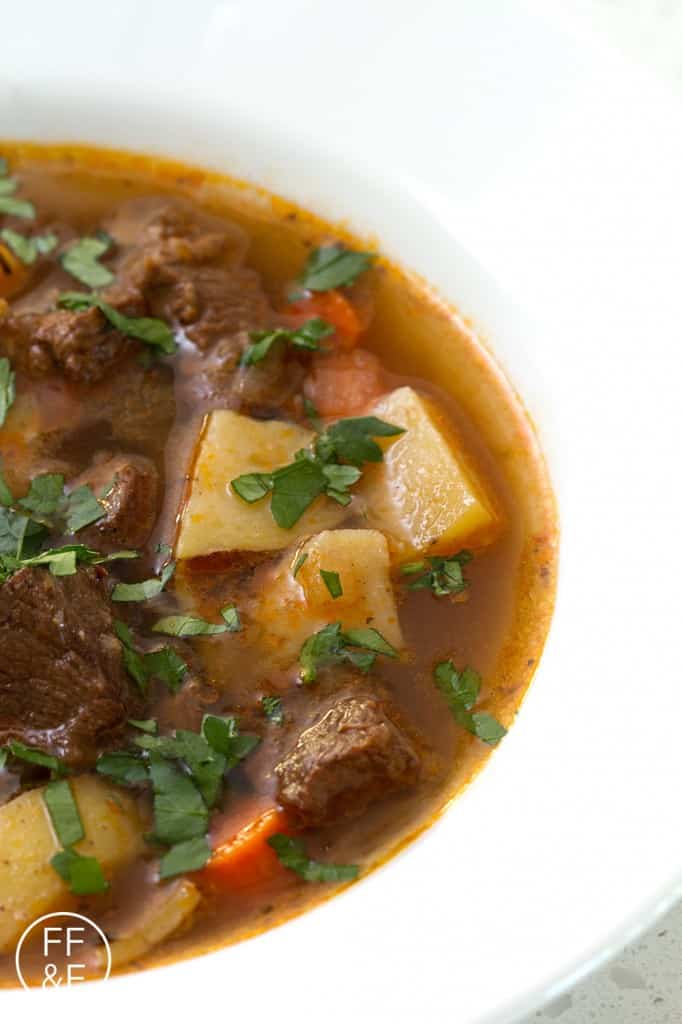 Hearty Beef Stew
Ingredients
2 pounds beef chuck roast, trimmed and cut into 1 - 1½ inch cubes
2 tablespoons smoked paprika
1 teaspoon coarse ground black pepper
2 teaspoons kosher salt, divided (to taste)
2 tablespoons extra virgin olive oil
2 tablespoons clarified butter
1 onion, diced
3 garlic cloves, minced
5 cups beef stock
1 cup Red Wine
2 tablespoons Worcestershire sauce
1 tablespoon dried Italian seasoning
4 cups Yukon gold potatoes, cut into pieces about ½"
3 cups carrots, cut into pieces about ½"
fresh parsley to garish, optional
Instructions
Sprinkle smoked paprika, pepper and 1 teaspoon salt over the beef pieces.
Warm olive oil and butter in a large dutch oven (or heavy bottom pot), over medium high heat.
Then carefully add beef and brown on all sides.
Once all beef is browned, add onion and garlic and cook until translucent.
Add wine and deglaze pan by scraping up the browned bits at the bottom of the pan. Add beef stock, Worchestershire and Italian seasoning. Stir to combine.
Cover and bring to a boil. Once boiling, reduce to simmer. Allow soup to simmer 30 minutes.
Add potatoes and carrots. Stir to coat vegetables and cover. Cook an additional 30 minutes or until vegetables are fork tender.
Taste broth. If necessary, add additional salt to taste.
Garnish with fresh parsley and serve.
Related posts: