This post is sponsored by Hebrew National kosher hot dogs.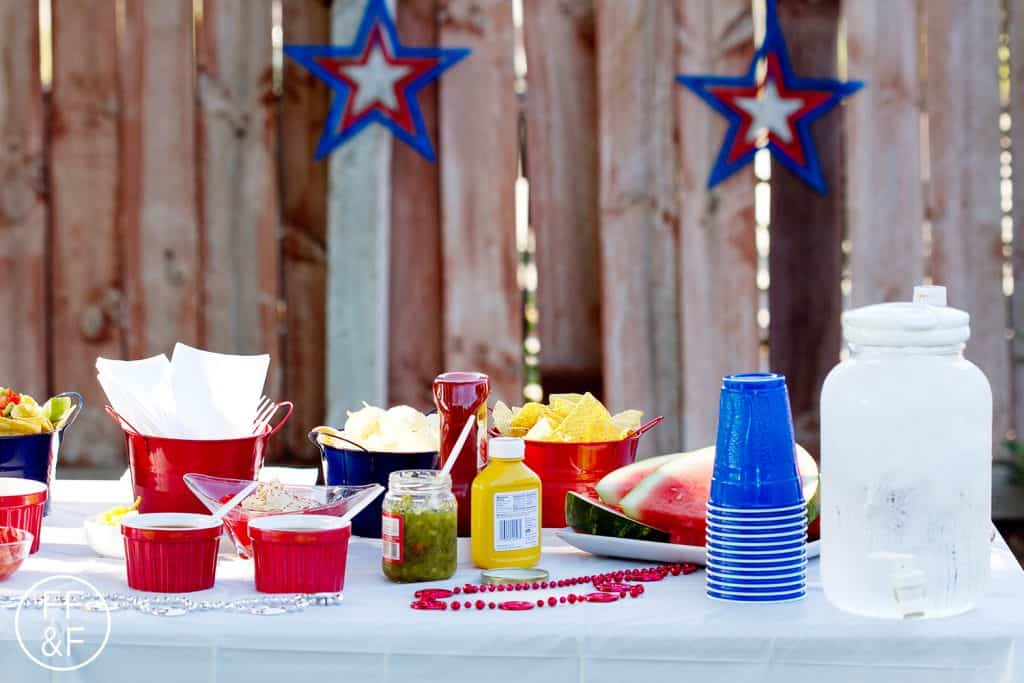 The fourth of July may just be my favorite holiday. You get warm weather, fireworks, family and friends, not to mention cooking out on the grill. If you like easy entertaining then you'll love my tips on how to host a fourth of July cookout.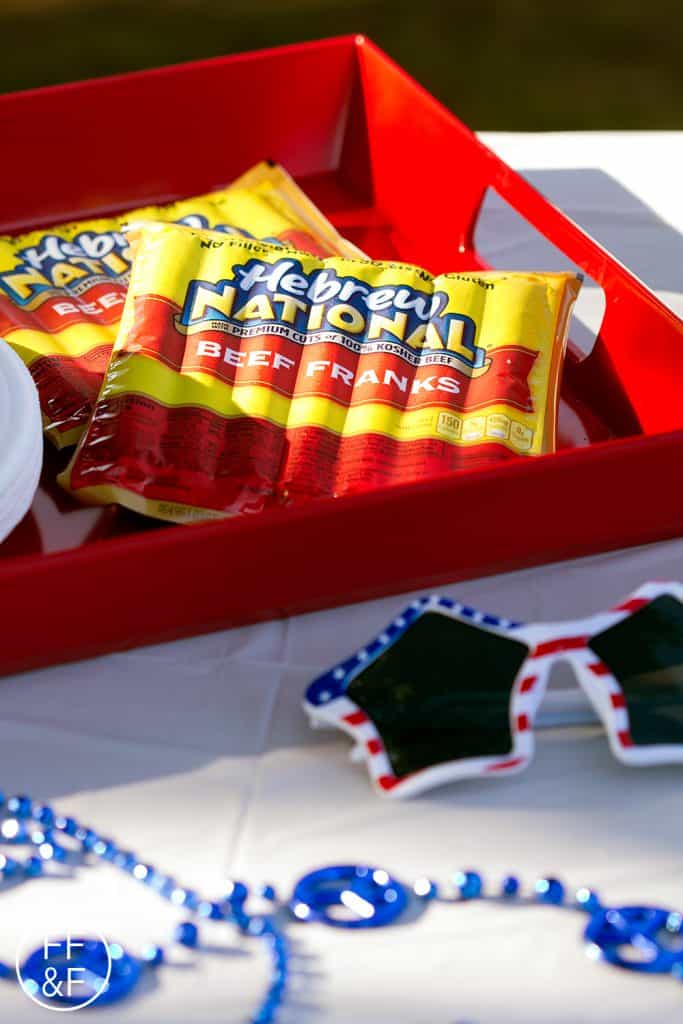 Set up a hot dog bar. Hebrew National All-Beef Franks are a must for any cookout. I'm not a fan of mystery meat so getting their all-beef dogs are a no brainer for me. Premium meats call for premium toppings, so I like to move beyond the basics and offer a smorgasbord of toppings to create the ultimate hot dog bar. A few of my favorite toppings* are . . .

Kimchi
Sriracha
Pickled vegetables
Guacamole
Grilled Onions
Tomatoes
Salsa
Roasted Red Peppers
Hummus
Potato Chips
Cheese
BBQ Sauce
Mac and Cheese
Old Bay Seasoning
Cocktail Sauce (ketchup and horseradish)
Pickles
Relish
Tortilla Chips
Curried Mustard (mustard and curry powder)
Cole Slaw
Pepperoncini
Pineapple
Make it a potluck. Sure, you can cook enough food for an army but why would you want too? Enlist your friends and guests to each bring a dish. You'll end up with a variety of food with significantly less work. Parties are so much more fun when you can share in the responsibilities.
Red, white and blue décor is a must. The fourth of July is one of the biggest bashes of the summer so it's time to get festive and decorate for your event. I like to keep the useful items (plates, flatware, napkins, etc.) simple so that I can use them all summer long. That way you can have fun with a few 4th of July specific décor pieces without spending a fortune.
Prepare a playlist to keep the party going. Music keeps the mood of any party light and festive. It's nice to have something playing in the background while you're at the grill or playing a game of bocce ball. Here's my Fourth of July playlist.

Born in the USA by Bruce Springstein
Party in the USA by Miley Cyrus
Fireworks by Katy Perry
American Pie by Don McLean
Sweet Home Alabama by Lynard Skynard
Philadelphia Freedom by Elton John
America Beautiful by Ray Charles
America by Neil Diamond
American Pie by Madonna
All-American Girl by Carrie Underwood
American Girl by Tom Petty and the Heartbreakers
What makes a Hebrew National kosher hot dog premium? It's all about what makes the cut (And what doesn't). We're choosy about what goes into our franks – we use only premium cuts of 100% kosher beef from the front half of the cow and then choose the best from that. No artificial flavors, colors, fillers or by-products. When your hot dog is Kosher, that's a hot dog you can trust! For more summer fun with Hebrew National, visit facebook.com/hebrewnational.
*The combination of franks and these toppings may not be Kosher.
Related posts: